Daily Sports Wrap-Up: May 10th, 2012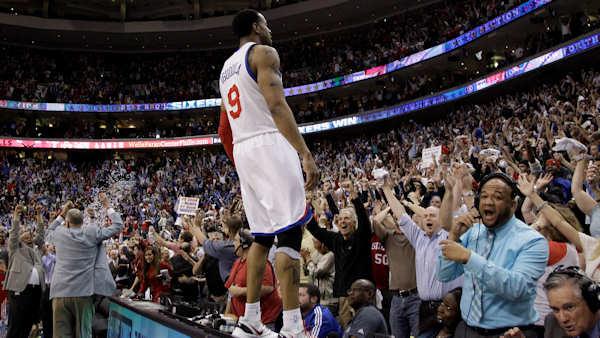 In our new daily installment, the Daily Sports Wrap-Up will give you everything you need to know to fix your sports need. From scores to injuries and all the breaking news you need, we look back at May 10th, 2012.
The NHL will have two nights off but fans will certainly be tuned in to Saturday's Game 7 match-up between the New York Rangers and Washington Capitals. Winner will advance to the Eastern Conference Finals to take on the New Jersey Devils.
The NBA continued it's playoff coverage as two teams advanced, and one forced a game seven.
Atlanta Hawks 80-Boston Celtics 83. Celtics win series 4-2
In one of the most electrifying series this year, we saw Rajon Rondo get ejected, Al Horford return from injury, and the resurrection of The Big Ticket, Kevin Garnett. The Celtics who are always questioned as being "old and done" have always proved the critics wrong. The Hawks are still a player or two away from becoming an elite team in the playoffs, but for now, the Celtics take on the surprising Sixers.
Chicago Bulls 78- Philadelphia Sixers 79. Sixers win series 4-2
It was a very disappointing series for the Bulls and their fans but to the extent of uncontrollable factors. They finished with best record, division title, first seed, and yet, thanks to injuries to Derrick Rose and Joakim Noah,  they lost the series to a motivated Sixers team. Andre Igoudala makes another case for his title as "Most Underrated" player in the league. The team looked "so close" last year and took its lucky breaks (literally) to win the series, and earn a chance to face the Boston Celtics in the Eastern Conference Semi-finals.
Denver Nuggets 113 Los Angeles Lakers 96. Series tied 3-3
Battling a stomach flu, Kobe Bryant scored 31 points but received very little help as the Lakers fall to Denver, tying the series. The Nuggets were willed by Ty Lawson who had 32 points, 6 assists, and 5 rebounds. The Lakers have looked lost the last couple of games as Pau Gasol shot 1-10 from the field. Game 7 is Saturday at 10:30 PM EST and Metta World Peace is elgible to play.
*NBA News:
Thunder G James Harden was awarded the Sixth Man of the Year award. He averaged 16.8 points per game, shooting a career best 49% from the field, and had his first career 40 point game.
Nuggers PF/C Chris Andersen has been given indefinite leave from the team after his house was searched by the Internet Crimes Against Children task force.
MLB Scores:
Game 1 of Doubleheader- Rangers 5 @ Orioles 6 (W: Chen 3-0, L: Colby Lewis 3-2, SV: J. Johnson 9)
*Game note: Orioles led off bottom of 1st inning with back-to-back-to-back homeruns. (Flaherty, Hardy, Markakis)
Nationals 4 @ Pirates 2 (W: Strasburg 3-0, L: K. Correia 1-3, SV: H. Rodriguez 7)
*Game note: Stephen Strasburgh struck-out 13 batters in 6 innings.
Game 2 of Doubleheader- Rangers 7 @ Orioles 3  (W: Holland 3-2, L: Hunter 2-2)
*Game note: Josh Hamilton finished the series with six homeruns
Indians 8 @ Red Sox 3 (W: Lowe 5-1, L: Beckett 2-4)
*Game note: Josh Beckett had shortest start of season only going 2.1 innings
Blue Jays 6 @ Twins 2 (W: Alvarez 3-2, L: Marquis 2-2)
*Game note: The Twins major-league worst record falls to 8-23
Tigers 10 @ Athletics 6 (W: Scherzer 2-3, L: Colon 3-3)
*Game note: Newly acquired 3B Brandon Inge hit his second Grand Slam in a span of three games. He joins Jimmie Foxx (1932) as the only two Athletics' to do so
*MLB News:
-Vladmir Gurrero signs minor league deal with Toronto Blue Jays
-Angels' catcher Chris Iannetta will miss 6-8 weeks due to wrist surgery
-Yankees outfielder Brett Gardner suffered a setback during his rehab
*NFL News:
-Minnesota Senate approves $975 million stadium plan for Vikings
-Buccaneers DE Da'Quan Bowers suffered a torn Achilles tendon
-Cardinals and DE Calais Campbell agree to five year deal
-Panthers agree with first round pick Luke Kuechly on 4 year, $12.58 million deal, all of which is guaranteed.
-Patriots hire Bill Belichick's son, Steve, as an assistant coach.