Jake Shields Eyes Opportunity Against Demian Maia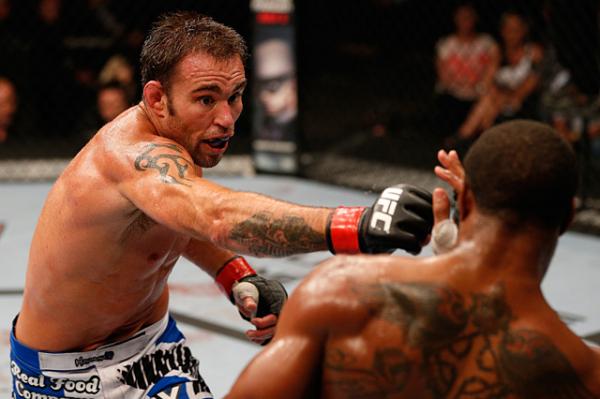 BARUERI, Brazil — The UFC makes another return to Brazil for a mid-week UFC Fight Night, featuring a showdown in the welterweight division between Jake Shields and fourth ranked contender Demian Maia as the main event.
For Shields (28-6-1, 1NC), it could be now or never to make a name in the division and earn contention standing in the welterweight division.
At UFC 129, Shields was in the main event fighting Georges St-Pierre for the welterweight title. After losing the fight by unanimous decision, he looked to get back on track and return quickly for a second title shot.
After the loss to St-Pierre, Shields faced Jake Ellenberger at a UFC Fight Night in September 2011. It was a tough loss for Shields, who was defeated convincingly by first round KO/TKO.
Following back-to-back losses, Shields finally earned a victory at UFC 144 over Yoshihiro Akiyama by unanimous decision. It appeared to be back on the radar for Shields, setting up a matchup with Ed Herman in the middleweight division at UFC 150.
Shields would defeat Herman by unanimous decision in his return to middleweight, but controversy soon followed. After his victory, Shields had tested positive for a banned substance. The positive test led to a six month suspension for Shields, and his victory over Herman was overturned to a no contest.
Losing to bigger names in the UFC, followed by a positive drug test, seemed to be the final straw for Shields in contention. He did make an appearance against Tyron Woodley on the undercard at UFC 161, earning a split decision victory. Despite the win, it did not seem UFC contention was in the grasp for Shields.
All that can change with a victory against a top five contender in the welterweight division Wednesday in Brazil.
Maia (18-4) has made a name for himself as a middleweight in the UFC, even earning a title fight with then champion Anderson Silva at UFC 112 in April 2010. After losing to Silva, Maia made his way back to a fight against Chris Weidman, where the winner would have an opportunity to face Silva for a UFC title shot. Maia was defeated by Weidman at UFC on Fox 2 in January 2012 by unanimous decision, and with a loss to Mark Munoz before then at UFC 131 in June 2011, a title shot seemed further away than ever.
The loss to Weidman led Maia to move down from middleweight to welterweight in the UFC, hoping to move up the rankings quickly in a weight division that is not as stacked with big names as for those in the middleweight division. Since moving down in weight class, Maia has won all three fights in the UFC as a welterweight. A first round TKO/KO over Dong Hyun Kim at UFC 148, followed by a first round submission over Rick Story at UFC 153, closed out a strong end of 2012 for Maia. His first fight of 2013 was a unanimous decision win over Jon Fitch at UFC 156 in February.
Fighting in his home country in the main event, Maia hopes to avoid an upset to Shields to remain a top five contender for the UFC welterweight title. As for his opponent, Shields looks for a win over a big name in the UFC, with hopes to propel up the title contention list.
Follow Brandon Boles on Twitter: @BrandonBoles
Facebook.com/FullScaleSports
Twitter: @FullScaleSport
(Photo Credit: Josh Hedges/Zuffa LLC/Getty Images)