Breaking Down the 2013-2014 Houston Rockets
The Houston Rockets will be one of the leagues most interesting teams to watch, and track, in 2013-2014. I break them down in today's column: Depth Chart-
PG: Jeremy Lin, Patrick Beverley, Aaron Brooks, Isaiah Canaan*
SG: James Harden, Francisco Garcia, B.J. Young*
SF: Chandler Parsons, Ronnie Brewer, Reggie Williams, Omri Casspi, Robert Covington*
PF: Dwight Howard, Donatas Montiejunas, Terrence Jones
C: Ömer Asik, Greg Smith, Marcus Camby, Jordan Henriquez
(* indicates rookies)
Off-season transactions:
Additions- Ronnie Brewer, Aaron Brooks, Marcus Camby, Isaiah Canaan, Omri Casspi, Robert Covington, Jordan Henriquez, Dwight Howard, Reggie Williams, B.J. Young
Subtractions- James Anderson, Carlos Delfino, Tim Olbrecht, Thomas Robinson, Royce White
Up-tempo doesn't do the Rockets style of play justice. According to John Hollinger's Pace Factor, Houston was tops in the NBA, at 98.6, meaning the guys Kevin McHale sends out their are running up and down the floor at all times. Last season, they won 48 games, and took the #1 seeded Oklahoma City Thunder to 6 games in the first round of the playoffs. Led by James Harden (25.9), the Rockets were 2nd in basketball in points per game (106.0.) Their offense was tough to stop. They were 5th in the Western Conference in team field goal percentage (.461), 6th in 3-point shooting (.366), and were the 4th most efficient offense (106.7).
But, they struggled in certain areas offensively. Turnovers were a big part. James Harden and Jeremy Lin combined for 6.7 turnovers per game, both ranking Top 20 in the league (which is a bad thing), contributing to their league worst 15.8 turnovers per game. That starts at the top with the man who has the ball in his hand the majority of the time, Jeremy Lin.
Let's break down Lin's struggles with the ball:
He turns the ball over on 19% of all offensive plays, which is not good. In isolation, 16% of the time, he turns it over. The Rockets entrusted Lin with the ball on 42% of all offensive plays when he was on the floor, and in that 42%, he turned the ball over 21% of the time. His biggest problem was handling the rock in transition. The Rockets allowed an insanely high 1512 points of turnovers, and Lin contributed to that with his 21% turnover rate in transition offense (2nd in the NBA.)
But, he can thrive in a primary pick-and-roll role, courtesy of some new guy named Dwight Howard. As we know, Dwight Howard is excellent in the pick-and-roll game, and Lin is very efficient in that role, scoring on 85% of shots of a pick-and-roll.
James Harden didn't exactly thrive with the ball in his hand either. I am a big believer that percentages, rates, and ratios are better indicators of a players performance than counting stats, so let's break down Harden with the ball using a per 48 minutes format:
Harden had the 8 highest usage rate of any NBA player, and we know how much Harden loves to isolate and penetrate. So, occasionally, yeah, he's going to turn the ball over. But, he did it often, a little too often. His 4.7 turnovers per 48 minutes ratio was 3rd in the league, which must be improved upon. Harden took the 2nd most shots 5-feet and under in the NBA, and if he can cut down on that, imagine how much better he, and the Rockets can be. With Howard in the paint now, Harden has a true option to dump the ball off too when pressured on the drive. It doesn't mean less shots for Harden, it's the same amount, but with less turnovers, and more opportunities for the Rockets to score.
We've broken down the Rockets offense as a team from last year, now onto the defense:
They were middle of the pack in defensive efficiency, and were high up in rebounding. The efficiency will be better with Dwight, and this could very well become the best rebounding team in the West. But, the backcourt, well, they are bad defensively.
The three-point shot is rapidly becoming the focal point of all NBA offenses, and teams need players to defend that. As good as Asik and Howard are on defense, they are incapable of guarding the Stephen Curry's of the world.
Basketball-Reference says the Rockets allowed 4.2 more points per game per 100 possessions with the bearded-one on the floor, and when Lin was out there, well, he was almost as bad. Synergy Sports did a study, and it showed that Jeremy Lin is the worst isolation defender in the league (amongst guards), and Harden is the worst at defending the spot-up jumper.
The defense of those two must improve.
Now, let's break down the personnel of the Rockets:
I like the depth Houston has at point guard. If Lin doesn't work out, immediately behind him is Patrick Beverley, who filled in for Lin during the playoffs against OKC. Beverley, in 33.3 minutes, averaged 11.8 points on 43% shooting, logging nearly 6 rebounds, and only turning it over 1 time per playoff game. He isn't a good distributor, but is a solid backup, and could provide decent production in a starting, but limited, role. Aaron Brooks is back, and as shown in the past, Brooks can provide instant scoring, once averaging 20 points per game for Houston only 3 short seasons ago. As a 3rd point guard, having Aaron Brooks is a luxury. Speaking of luxuries, Isaiah Canaan, 2-time Ohio Valley Conference Player of the Year, is Houston's 4th point guard. In my mind, he was a steal in the 2013 draft, and he could very quickly earn himself a larger role on Kevin McHale's squad.
James Harden's 38 minutes a night are unlikely to decrease, but depth in this league is vital. Harden has the ball in his hands a lot, and there will be nights where he or Dwight just don't have "it," or are being too heavily guarded. So, brilliant general manager Daryl Morey went out and added shooters this summer; Omri Casspi, Francisco Garcia, and Reggie Williams. They all combine for a lifetime 3-pt% of 36%, which is certainly good. They are all athletic, and versatile. In limited minutes, they all could thrive as shooters. An August addition of versatile wing defender Ronnie Brewer could pay to be beneficial against other elite offensive wings in the West, Kobe Bryant, Kevin Durant, and Andre Iguodala.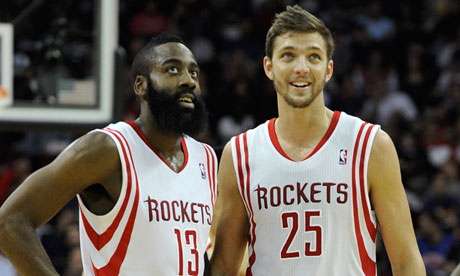 Chandler Parsons is a good player, but must elevate his game. We need to move on from the nice story of his late-round success, and focus on the now. He put up excellent shooting numbers in 2012-2013, but he sometimes was erratic and out of control. His defensive effort needs to improve, and his situational shot selection also needs improvement. I spoke on the shooters behind Harden and Parsons, but Kevin McHale likes to rely on his big guns.
In the depth chart, I listed Dwight Howard as a power forward, because I believe he will play that position in 2013-2014 for Houston. Amid all the injury, scrutiny, and tough times in 2012-2013, Howard was still excellent, posting a line of 17 points, 12 rebounds, 2 blocks, and 58% shooting. But, he still couldn't hit a free throw, but let's not get into that. I've been very publicly critical of Dwight in the past, but this is opportunity to prove me wrong. They've given him everything he could possibly want, and it's his turn to grow up and live up to his potential. Donatas Montiejunas and Terrence Jones are ready for their second NBA seasons, and have high-ceilings.
I'm a big Ömer Asik guy, and I hope he stays committed to the Rockets. He reportedly requested a trade upon Dwight's arrival, and rightfully so based on what could be a lesser role. He had an excellent season last year, averaging 10 points and 12 rebounds. I feel he and Dwight would make a good pair in the starting lineup, but at the same time, he is a viable trade candidate, that could pry Ryan Anderson away from the Pelicans. Marcus Camby returns to Houston, and in spurts, could prove very effective for the Rockets. Greg Smith was also very solid last year.
Bottom line, there really isn't any ceiling for the Rockets in 2013-2014, as they could be title contenders.
For all NBA news and analysis, I can be found, followed, and interacted with on Twitter- @TheBTrain10.