Smackdown Results 2/7/14 – WWE News & Rumors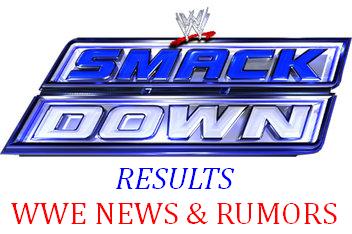 Friday Night Smackdown
2/7/14
Dean Ambrose & Roman Reigns defeat Dolph Ziggler & Kofi Kingston via Pin
Sheamus defeats Ryback via Pin
Daniel Bryan defeats Antonio Cesaro via Submission
AJ Lee defeats Nikki Bella via Submission
Bray Wyatt defeats Goldust via Pin
Randy Orton defeats Christian via Pin
– There really is no more news on CM Punk's departure from WWE.  He did not like the lack of long term booking of his character and is extremely banged.  Punk was in the plans to have a match with HHH at Wrestlemania and was apparently informed that they were going to go a different direction and he would most likely be feuding with Kane into WM.  With his unhappiness already and his physical state, this basically was the icing on the cake for Punk and he decided to go home.  His contract is up in July and WWE does not want him to leave so look for a big push to be made to bring Punk back and make this whole ordeal into an angle.
– Word has it that Jake Roberts has been working with Bray Wyatt recently.  Jake has a great wrestling mind and was always money on the mic.  Bray can only get better with Roberts' help.
– Hulk Hogan & Sting do not have official contracts signed with WWE, but both are rumored to very soon.  Hogan might possible be used as a host of Wrestlemania like the Rock was a few years ago and Sting will probably not being involved in a match at Wrestlemania, but is rumored to maybe debut the night after ala Brock Lesnar 2 years ago.  The crowd after a Wrestlemania is always hotter than normal and great for a debut.