Denver Has No Timetable For Danilo Gallinari's Return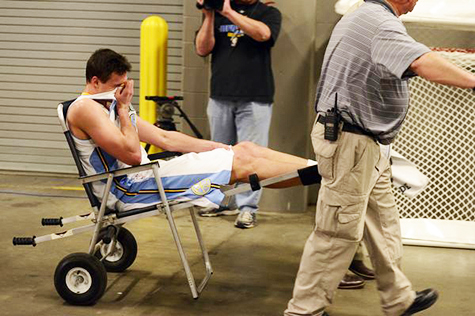 Danilo Gallinari partially tore his ACL on April 4th, right before the playoffs. His injury killed any chance Denver had of making any serious noise in the postseason.
Gallinari has been rehabbing in Italy, his agent says he's progressing well, but still doesn't have a specific date of his return to the court.
"Rehab is progressing well," (Gallinari's agent Lee) Melchionni said. "He's doing well. Everything he's been asked to do, he's done….

"We don't have a set date for when Danilo is ready to return," Melchionni said. "When he gets cleared by doctors, I think we will cross that bridge when it comes, but we don't have a specific date or month or timetable in our heads right now. It's more just him being 100 percent healthy, ready to go and feeling comfortable going out there and getting back on the court."
After losing Iguodala, Denver needs Gallinari more than ever.
Follow Mark Gunnels on Twitter @RealMarkGunnels
Facebook.com/FullScaleSports
Twitter: @FullScaleSport