Josh Freeman: The Long Term Potential Is There To Stay With Minnesota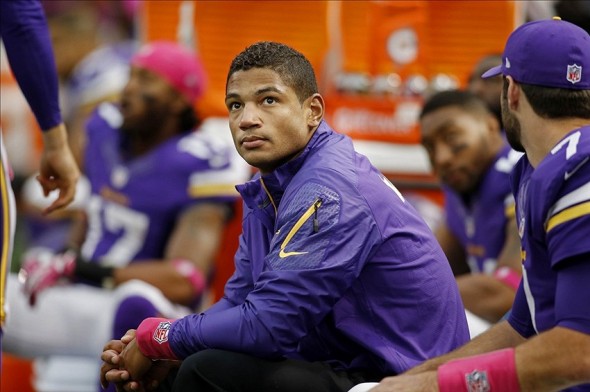 As the Minnesota Vikings prepare to take on the New York Giants, quarterback Josh Freeman prepares his first start for his new team. Freeman was signed just a couple of weeks ago and with the Vikings struggling at quarterback, they've given him the starting role quicker than expected.
Before dipping into Freeman's potential with Minnesota, it should be noted that he's only 25-years old. The biggest knock on the former first round pick has been his inaccuracy.
Even in his finest year, 2011, in which he threw a 62% completion percentage, Freeman had 16 touchdowns to 22 interceptions. A poor ratio, that was a complete opposite to his 2010 season in which he had 25 touchdowns to 6 interceptions.
As it goes, Josh Freeman is inconsistent and inaccurate. If mixed in with the always changing situations in Tampa Bay, the move to Minnesota was much-needed.
Freeman now comes to a team with two veteran receivers in Greg Jennings and Jerome Simpson, a deep-play threat in rookie Cordarrelle Patterson, a Pro Bowl tight end in Kyle Rudolph, and a running back named Adrian Peterson.
Peterson clearly will relieve pressure off Freeman in the run game, but the complete all-around back can help in pass protection as well as another receiving option.
With talented play makers all around the offense, and a change of scenery, Freeman has all the necessities to succeed.
Christian Ponder has showcased what seems to be his max potential and Matt Cassel is nothing more than a serviceable veteran.
Freeman, with his previous success, is the right move for the 2013 Vikings. As far as 2014 and beyond are concerned, the rest falls onto Freeman. The talent is around him, the change of scenery has happened and hear coach Leslie Frazier is far better than Tampa's Greg Schiano.
He's got everything he needs to succeed in the palm of his hands, now with no more excuses to be heard, Josh Freeman must prove he's not wasted potential.
It's not much to compete with, but if he can provide multiple wins and a turnaround, Josh Freeman could be the Vikings quarterback long-term.
Follow Mike Pendleton on Twitter @MP2310
Facebook.com/FullScaleSports Twitter:@FullScaleSport
Photo credit: (Bruce Kluckhohn/USA TODAY Sports)