NCAA Takes Scholarships From Miami, Suspends Former Coach 5 Games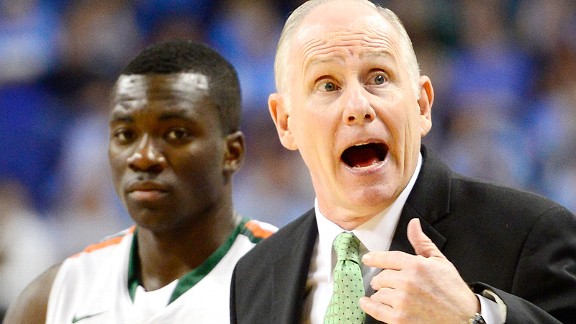 Don't you hate when people don't clean up after themselves and it forces you to do it for them?
I'm pretty sure you can relate to that , so please feel for current Miami Hurricanes coach Jim Larranaga.
Former Miami coach Frank Haith didn't run a very clean program and now it's going to cost the university three scholarships over the next three seasons.
"The former head men's basketball coach failed to meet his responsibilities as a head coach when he did not monitor the activities of his assistant coaches, and attempted to cover up the booster's threats to disclose incriminating information, according to the committee. Additionally, two assistant football coaches and one assistant men's basketball coach did not follow NCAA ethical conduct rules," the NCAA's report stated.
Frank Haith isn't getting away completely free in all of this. He will serve a five-game suspension at Missouri but that won't affect him or his team that much, considering they're playing some cupcake teams to start the season.
On the other hand, Jim Larranaga is coming off winning the ACC Championship but he lost six of his top seven players.
It's going to be a uphill battle to keep Miami afloat in the ACC with schools like Syracuse, Notre Dame, Pittsburgh and Louisville joining the conference.
And I didn't even mention those two schools in North Carolina.
Follow Mark Gunnels @RealMarkGunnels
Facebook.com/FullScaleSports
Twitter: @FullScaleSport