Jay Cutler: The Ultimate Scapegoat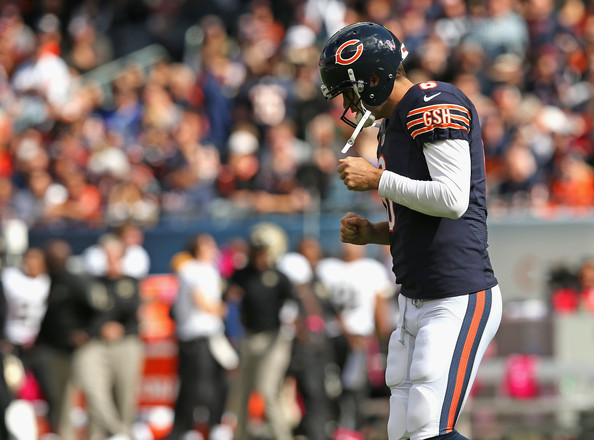 Through week 10 of the 2013 NFL season, the Chicago Bears are 5-4 and sit 2nd in the NFC North division. This is also the team's first year with head coach Marc Trestman, who's going through his first experience as an NFL head coach, and the first time since 2000 that the defense lined up without linebacker Brian Urlacher.
In 2013, and in recent memory the NFL has become a passing league, and even more so, a quarterback driven league where it all falls on the man under center. Without going very detailed in stats, there is proof that Jay Cutler is the ultimate scapegoat in Chicago, when it comes to the Bears.
Upon arrival, Cutler was crowned, deservingly so, as king. Coming off successful years in Denver, the Bears traded multiple draft picks, including two first-rounders, and Kyle Orton to bring Cutler in. So in comes a quarterback who had played two full seasons in Denver, thrown for nearly 8,000 yards, 45 touchdowns, and 32 interceptions.
The knock on Cutler? His attitude.
Coming in to remove memories of Kordell Stewart, Rex Grossman, Kyle Orton, Craig Krenzel, and even Brian Griese among Bears quarterbacks in the 2000s, Cutler had high expectations from the fans, front office, and media. But what did Cutler get in return? Here are the list of receivers and top statistical receiver since Cutler's time in Chicago:
2009 wide receivers: Rashied Davis, Earl Bennett, Devin Aromashodu, Devin Hester, and Johnny Knox.
2009 top receiver: Devin Hester
Cutler was sacked 35 times in 2009.
2010 wide receivers: Rashied Davis, Earl Bennett, Devin Aromashodu, Devin Hester, Johnny Knox
2010 top receiver: Johnny Knox
Cutler was sacked 52 times in 2010.
Finally, in 2011, there was help (or so they thought).
2011 wide receivers: Earl Bennett, Devin Hester, Max Komar, Dane Sanzenbacher, Roy Williams
2011 top receiver: Johnny Knox
Cutler played in 10 games in 2011, was sacked 23 times.
In 2012, Cutler got what most quarterbacks have, a legitimate receiving threat.
2012 wide receivers: Brandon Marshall, Alshon Jeffery, Earl Bennett, Devin Hester, Eric Weems
2012 top receiver: Brandon Marshall
Cutler was sacked 38 times in 2012.
Now as we fast forward to 2013, Cutler has become the franchise-leader in quarterback sacks, and has missed a game and a half due to a torn groin, came back earlier than expected, only to injure his ankle, leaving him week-to-week.
Even with a first-year head coach in Marc Trestman, many expected this team to be an NFC competitor for the Super Bowl, and a major reason why, was Jay Cutler. In 2012 the team started off 7-1, Cutler got injured, missing one game, Jason Campbell came in for relief, and the team never recovered, missing the playoffs. In 2011, same story different dance, Cutler injured, Bears declined.
2010 is when it began. When Cutler and the Bears, who entered their second year together made it to the NFC Championship Game against their bitter rival Green Bay Packers, the city was on cloud 9, and it prayed for Cutler to lead this team back to the promise land. Finally, a quarterback was leading the way.
Until he got hurt.
Cutler left the NFC Championship game with a knee injury, and not only did the boo birds pour in, but so did the criticism. Cutler wasn't tough enough, he quit on the team, and that poor attitude we all became aware of, was killing this team. 2010 was also the year, as noted above, in which Cutler took 52 sacks. Sacks do not include the amount of times a quarterback has been hit, which must also be taken into consideration.
So after years of up-and-down play, the Bears front office went out, acquired his old best friend in Brandon Marshall, and the Bears were rolling, until injury struck. In 2012, not only was Cutler injured, but so was future Hall Of Fame linebacker Brian Urlacher, leaving the team without their leaders on both sides of the ball for at least some point in the season. Once again, all the noise in Chicago, Cutler's fault.
Never mind that the front office had yet to provide him with an offensive line, who could actually protect the quarterback. Never mind that Cutler had potentially future years knocked off his career due to the amount of hits he took upon his arrival in Chicago. Finally, never mind the fact that it took four seasons for the team to go out and get, what most teams had, a big-body talented wide receiver, who just so happened to be the quarterback's best friend.
Now, in 2013, as Cutler is in the final year of his contract,  and the scapegoat is back. The ultimate scapegoat, Jay Cutler, has returned. Here's a quarterback at 30 years old, trying to match other quarterbacks, Tony Romo, Matt Ryan, Aaron Rodgers, Matthew Stafford, as those who were rewarded with big contract extensions, including the fact only one of the mentioned won a Super Bowl.
The most talented quarterback to wear a Bears uniform since Jim McMahon, is arguably more talented physically than McMahon, and could be the most athletic quarterback ever in Chicago. Even with all the given tools, when given poor surroundings, Cutler has been beaten, and presumably had years knocked off his career.
Fact of the matter is, for right or for wrong in Week 10 of the 2013 season, Jay Cutler lined up under center, because he has heard the chirps, the boo birds, the questions on his toughness, and if you mix in the fact that he's playing for a new contract, the ultimate scapegoat was out to prove others wrong. After suffering another injury, there are voices that say Josh McCown should be the long-term starter, or that the organization should draft a rookie to take this veteran team over.
Wrong.
Jay Cutler has given the city of Chicago everything he has in the prime of his career, but in return, hasn't always been appreciated, or respected. The life clock of NFL players is short, especially for quarterbacks who lead their franchise in sacks. It's time to look around, and start pointing fingers elsewhere, Jay Cutler has bled blue and orange since coming to Chicago, and does not deserve the amount of scrutiny he's taken.
When looking for fingers to point, start at the top, as in the front office, and stop pointing them at Jay Cutler. It's a quarterback driven league, but when your quarterback is driven into the ground both figuratively and literally, there are more people to blame than just the man himself.
Follow Mike Pendleton on Twitter @MP2310
Facebook.com/FullScaleSports Twitter:@FullScaleSport
Photo credit: (Jonathan Daniel/Getty Images)