Jason McKie's 3rd Annual Dinner Gala and Golf Outing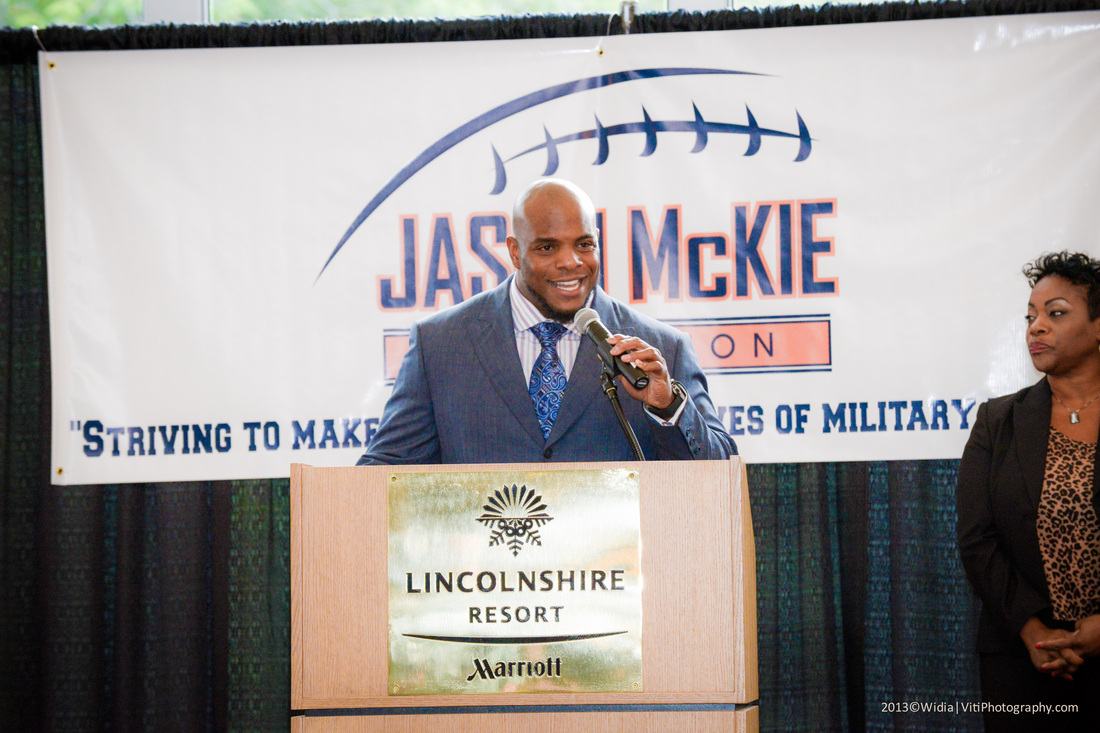 There's giving back to the community and there's giving back to those who have served our country, but former Chicago Bears fullback Jason McKie does both. The Jason McKie Foundation will host the "3rd Annual Jason McKie Foundation Dinner and Golf Benefit" in efforts to give back to the men and women who serve our country. More insight on the Jason McKie Foundation, ran by Jason and his wife Stacey:
Jason McKie Foundation is a 501 (C) (3) that was established in 2008, which goal is to continue raising awareness and providing emergency support for military families. Jason grew up a military brat, whose father Mac McKie, is a 22-year retired Air Force Master Sergeant who continues to serve his country, working as a government contract in the Pentagon. Jason has seen first hand sacrifices that our military personnel has made, having a numerous amount of childhood friends, who are serving in all branches of service and special forces that have logged countless amount of hours being deployed in Afghanistan, Iraq, and other parts of the Middle East.

Through the Foundation, Jason McKie has been able to establish scholarships for military dependents, whose mother or father have been severely injured. The Foundation also gives away tickets to various sporting events, donates holiday gift cards, provides emergency assistance for medical and financial bills for Military Families. Jason McKie is also a Board Member for Operation Homefront Illinois, who has a variety of programs for our military ranging from home giveaways to military combat veterans, to providing emergency assistance to military families.
I was able to attend this very event last year for the first time, and the dedication and respect in the room for those who have served our country is absolutely incredible. Additionally, the work that Jason and his wife Stacey have done with this Foundation is even more incredible.
You get the best of both worlds on this special weekend. The dinner gala brings much class and celebration to those honored, including silent and live auctions and a great dinner with Jason McKie and other celebrities and athletes. The following day is a day of golf, fun, and relaxation. A time to be around Jason and other celebrities who are not only there to honor are service men and women, but to play golf too.
So grab some friends, or come alone and enjoy this 3rd annual weekend with the Jason McKie Foundation.
All information on the event can be found and printed out here.
For more information on the Jason McKie Foundation, click here.
Follow Mike Pendleton on Twitter @MP2310
Facebook.com/FullScaleSports Twitter:@FullScaleSport
Photo credit: (JasonMckie.com)