Da Don's Verdict: Carmelo Anthony Wants to Test Free Agency at Season's End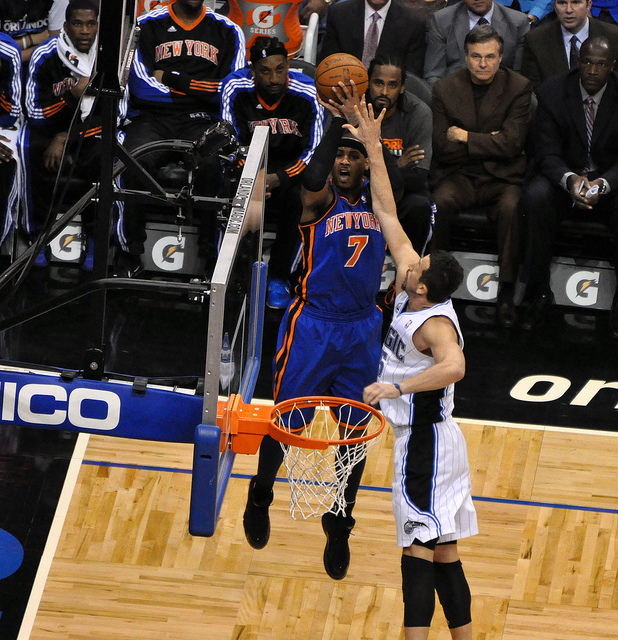 It's very rare that Da Don dives into NBA rumors and NBA talk like this, but it's a special circumstance in light Knicks SF Carmelo Anthony spoke to the media, saying he'd opt out of his contract with the New York Knicks to become a free agent at the end of this upcoming 2013-14 season.
Keep in mind that Anthony has never been a free agent since he signed an extension with Denver in 2009; he was set to become a free agent in 2010 with LeBron James, Dwayne Wade, Chris Bosh, Ray Allen, David Lee and the rest of that insane free agent class.
"I think everybody in the NBA dreams to be a free agent at least one time in their career. It's like you have an evaluation period, you know. It's like if I'm in the gym and I have all the coaches, all the owners, all the GMs come into the gym and just evaluate everything I do. So yes, I want that experience." These were his exact words on the matter to the New York Observer.
If I'm a Knicks fan, I'm getting a bit nervous because Amare Stoudemire, Tyson Chandler, and Raymond Felton aren't exactly at their best points of their careers. With that said the Knicks may need to look to pull something crazy this season unless they feel they can either get a sign and trade or just flat-out sign him to be the richest player in the NBA with 5 yrs/$129.6 million. The most he could get from any other team would 4 yrs/95.9 million roughly.
He wanted to play for New York from the get-go whether with the Nets or the Knicks when there was beginning speculation when he was in Denver a few years back. He wanted the pressure of playing in New York; he wanted to replicate what he did at Syracuse University when he carried the team to their first National Championship in school history over Kansas.
"I came to New York for a reason," he said. "I've been with you all my life, almost to a fault. I wanted to come here and take on the pressures of playing in New York. So one thing I would tell my fans: If you haven't heard it from me, then it ain't true." Once again from the New York Observer saying similar things as he said in Denver before he left there.
"Everybody has their own opinion about the situation," Anthony said."I don't know where that came from, though." (from Fanhouse 2010) This was his response to trade rumors to the Lakers in December 2010. Clearly Melo isn't taking a route different from fellow 2003 Draft mate Lebron James did before he belted blue-collar Cleveland for the sunshine of South Beach.
Whether Carmelo Anthony wants to stay or not, it's my job to be the guy who plays devil's advocate, what teams would he go play for if he were to leave the Knicks after this season. I'll name three of the most likely teams to go after him.
Los Angeles Lakers
Well it's the NBA so there's no free agent of the "star" caliber that'll be left off the radar of the Buss family whether they're feuding or not, and whether the coach they've got on the bench (Mike D'Antoni) has a rep for not having teams playing a "lick" of defense.
But that would matter when D'Antoni used to be employed by the New York Knicks, after losing Kobe Bryant to injury last season and C Dwight Howard to the Houston Rockets via free agency, they would fire D'Antoni to land Anthony.
The NBA is a league where coaches are not as big of a reason for success as opposed to the NFL, because the stars run the league. Melo is a top 5 player in terms of scoring and marketability also helps when you're married to former MTV personality LaLa. Plus he was rumored to go to Lakers as early as late 2009, wouldn't that be something to run the table with.
The main problem in this could be Kobe Bryant, he may say he's a team player but in the end he's 35 years old, at this point he's going for his unless he REALLY wants to win a 6th title, there isn't a legit chance of straight up signing Anthony without a sign and trade of epic proportions or to amnesty Gasol or Bryant as the only options on the table, which isn't going to be thought in LA management because they already used the amnesty on Metta World Peace, sorry Mark Cuban.
Atlanta Hawks
Last year at this time I was that one person talking about Chris Paul and Dwight Howard possibly teaming up in Atlanta for this upcoming season. Now that I'm heartbroken that I wasn't right, the average Hawks (at least on paper), have a whole at the 3 left by Josh Smith.
Anthony would be a great addition to a team with PG Jeff Teague, G Louis Williams, F/C Al Horford, and new addition Paul Millsap. This is a team that will be a 6 or 7 seed in the East without Anthony, granted the young guys they have don't become phenoms (Schroeder, Jenkins etc.) seemingly Anthony would give them a finisher and they have some great shooters on the wing with Korver and Jenkins.
How awesome would it be for Phillips Arena to have a chance to be packed like it was with Doc Rivers, Dominique Wilkins, and Spud Webb.  Anthony will have a team that maybe dominant in rebounds and outside shooting. If Schroeder, the kid from Germany develops his raw talent, we could have a team that with Melo that is a without a doubt a threat in the East.
It may not happen simply because it's Atlanta, since the mid 2000's rap game and the Vick Falcons, the city hasn't had a team marketable enough to draw power free agents, I left the Braves out because they're an exception to this obviously. Smith, Johnson and Horford failed as a big three so maybe looking to develop their own guys is the direction they go.
Chicago Bulls
Bulls fans we all know it's going to be a great week when you see Derrick Rose drop 22 points in a preseason game at the United Center. He's going to be dominant again barring an epic collapse. Now let's talk about getting him and Noah a guy who would become the wing scorer they've lacked in the Rose Era of the Bulls.
Anthony mixed in with Jimmy Butler, Derrick Rose, Taj Gibson, and Joakim Noah would probably make the best starting five in the NBA but of course Carlos Boozer would have to go, that's a long time coming regardless and Gibson gives them more athleticism at the PF spot than Boozer can.
They also have Deng who would become expendable in this scenario, a solid player who'll have plenty of suitors around the league for his two-way ability, it's a bit of a hockey term but Deng can contribute on the offensive and defensive side of the ball.
The problem with this is that Chicago may not want to go the lengths to get Melo, if Lebron is available he'd the first preference as is everybody else's. But Melo with Rose would be a duo that would force each other to compromise and that hasn't worked for Melo in New York or in Denver unless Rose expands his game as a distributor. I feel the mentality and psyche wouldn't change all that much as Thibodeau's defensive chokehold style he has.
The Final Verdict:
Overall Carmelo Anthony is setting himself up the same way he did in 2010-11 with all the rumors in Denver. This summer there were rumors of Melo asking the Knicks to trade for Celtics PG Rajon Rondo and clearly voiced a bit of frustration from hindsight. Amare isn't going to be the same player barring a miracle and Chandler is battling injuries himself.
What's left of that frontcourt now?  They now have Metta World Peace Kenyon Martin, Andrea Bargnani, and Cole Aldrich. Not quite the core of a championship team but of course the Knicks will have a oppurtunity in the East to be a 3 seed behind Chicago and Miami if Stoudemire, Chandler, Felton and company stay on the court.
I'm sure Donnie Walsh, James Dolan, Mike Woodson and Knicks management have a way to fend off Melo's words. Maybe he wants to be a free agent, heck KG was two years ago with Boston and ended up resigning with Boston.
Though now the Knicks are now on the clock in terms of figuring out the long-term future of the team, for the fans sake they better figure it out like Denver did. If they wait too long they may end up like the Lakers did with Dwight Howard.
Follow me @DaDonsVerdict and @FullScaleSport
Bryan Luis- Columnist (Da Don's Verdict)