Mike Alvarado Faces Ruslan Provodnikov In Mile High Mayhem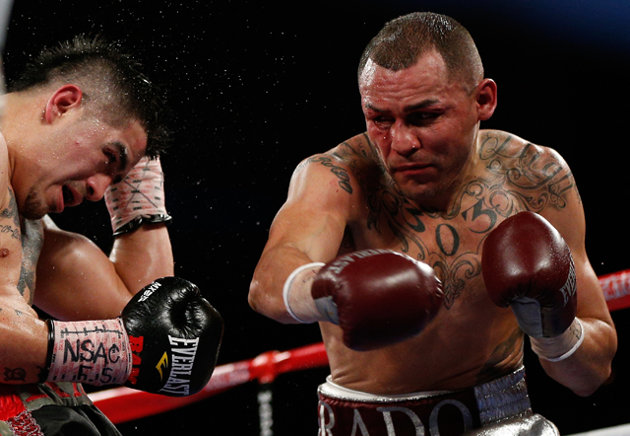 BROOMFIELD, Colo. — Mike Alvarado (34-1) may have missed out on a fight with Manny Pacquiao in China, but the next best option was one he could not resist. Hailing from the Mile High City, he earned an opportunity to fight on the outskirts of Denver in the main event against Ruslan Provodnikov (24-2) for the WBO junior welterweight title. The event marks the first time boxing returns to Colorado since  2000, when Denver's Stevie Johnston lost to Jose Luis Castillo at the Pepsi Center.
Alvarado recently came away winning the belt against Brandon Rios in March by unanimous decision, avenging his TKO loss to Rios back in October 2012. Before the TKO loss, Alvarado had won his first 33 professional fights, 23 of those wins coming by way of knockout.
After his defeat of Rios, it seemed Alvarado was next in line for a shot at Pacquiao, but fate instead gave Rios the shot. An injury to his hand required surgery, and rather than Paccquiao and his camp waiting for a timetable on Alvarado to return, swept the opponent who just defeated him instead. Still, HBO looked for an opponent and venue for Alvarado, and found a way for the current champion to defend his title in his hometown.
Now, Alvarado is set for one of his toughest fights in his professional career. His Russian counterpart, Ruslan Provodnikov, will face off after a 12 round showcase against Timothy Bradley, one that many fight fans have called the fight of the year. Before this fight, he worked with well renowned trainer Freddie Roach.
Alvarado could be another impressive win away from finally earning that match against Pacquiao, but he is not looking ahead to the future. Returning home to defend his belt against the "Siberian Rocky" is well on the mind.
Both Provodnikov and Alvarado have put on a potential fight of the year in March, and are known to scrap and be physical in the ring. Provodnikov has solid speed, but will look to be more accurate with his punching, a key in his loss to Bradley in March. Closing the distance against Alvarado will also be a top priority for the Russian in order to pull of the upset in the champion's hometown.
As for the current champion, his camp has claimed that Alvarado will look for the knockout, predicting in the seventh or eighth round it will happen. Expect the champ to be aggressive with his punching, while also utilizing his jab for his three inch reach advantage.
Alvarado versus Provodnikov headline the HBO fight card scheduled beginning at 9:45pm ET.
Follow Brandon Boles on Twitter: @BrandonBoles
Facebook.com/FullScaleSports
Twitter: @FullScaleSport
(Photo Credit: Getty Images)