Da Don's Verdict: Top 10 Quarterbacks So Far For the Upcoming 2014 NFL Draft Class
Da Don's Verdict is already working on the 2014 NFL Draft because it's halfway through the college football season, and we start with the glamour position of QB.
In last year's NFL Draft we only saw one QB drafted in the 1st round and that was Florida State Field General EJ Manuel. Even that choice was heavily criticized; I had him as my #6 QB in the 2013 NFL Draft behind Matt Barkley, Geno Smith, and Mike Glennon notably. Manuel and Smith have looked pretty good so far in their rookie year.
This upcoming 2014 NFL Draft class could feature five QBs I consider to be first-round caliber. Those players include Teddy Bridgewater, Marcus Mariota, Johnny Manziel, Brett Hundley, and Zach Mettenberger. With a lot of second/third round guys too like AJ McCaron and David Fales among others.
I will give you a quick review of what each guy brings to the table so far before we give these aspiring NFL signal-callers the hawk's eye for the Combine and their pro-days.
1. Teddy Bridgewater University of Louisville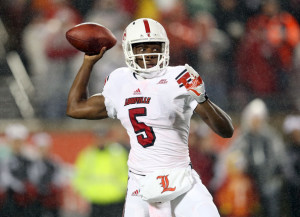 Bridgewater was the best dual-threat QB to come out of HS three years ago according to Rivals.com, and man they were dead on with that depiction. Of course in some of the blogs I've read on Bridgewater include crazy comparisons including Warren Moon, Donovan McNabb; even some have gone as far as Peyton Manning. But I'm not going to put him under that kind of pressure yet.
I can careless about the upset to Central Florida because that's a quality team that played a great game. Also, Bridgewater did lead a comeback late only to come up short.  But there's one highlight people should watch of Bridgewater and that's the game he played last year, the Sugar Bowl vs. Florida in which he was as dominant as a QB could be.
He's the kind of leader you want on the field when the game is on the line, and most of all he may go #1 overall to whatever team decides to stink the most whether it is Jacksonville, St. Louis, Houston, Minnesota etc. Plus being able to have his mother by his side could make him the Ray Allen of the NFL and I find that very cool.
Bridgewater is the second best QB I've seen in college since 2004, only behind former Stanford QB Andrew Luck, now with the Colts. So it's only fitting that he's the number one QB of this draft class.
Teddy Bridgewater Sugar MVP Performance vs. Florida Gators
2. Johnny Manziel  Texas A&M
When you get a standing ovation from the crowd of Bryant-Denny Stadium and you're not an Alabama player, you're something special. Manziel had one of the best games of anyone I've ever seen at Alabama considering they were #1.
Manziel went on to become the Heisman Trophy Winner last season but unlike many Heisman winners I think Manziel can be a great QB in the NFL. Usually I stay away from running QBs. In fact I could use the RGIII argument of the risk of injury because in my eyes being able to play every single game is the most important stat in sports.
But the game is changing, soon QBs like Manning, Brees, and Brady will be gone and with the way college football's going, the mobile QB will be standard in the NFL. Manziel just happens to be able to do both.
Manziel has had his struggles but he's got great accuracy with improvement, the only question I have is about his attitude, seems to have a great arrogance about him but somehow I don't really care because I feel his team feeds off that energy.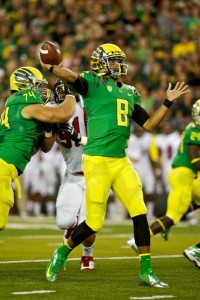 3. Marcus Mariota University of Oregon
Like Manziel, Mariota's a redshirt sophomore who's been taking the college football world by absolute storm. Oregon has brought the term super-speed and precision to offense since the Chip Kelly era started. But the main difference between Mariota to some of the other starting QBs they've had is one simple thing, arm strength.
This guy is a precision passer who's been scoring points through the air as well as he's been doing on the ground. To me he has a similar skill set to that of RGIII than Manziel does, and most of all Mariota will only be 20 and is only been skyrocketing up draft boards the same way RGIII did in 2012.
The scarier part of all this is that Mariota has yet to throw an INT this season. He has 2,000 passing yards and 19TD throwing which is pretty remarkable and is so far my favorite win the Heisman.
He's the #2 QB in most people's charts but he's only number three because I want to see Oregon win a game in an ugly fashion, as in I want to see them win when they're aren't totally clicking. See if Mariota can truly take a team on his back and will them to victory. Other than that he has all the other tools to be successful in the NFL.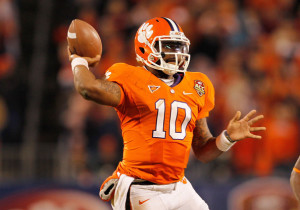 4. Tajh Boyd  University of Clemson
Boyd is continuing the trend of dual-threat QBs on my list. Boyd is a senior who's been starting for three years at Clemson. Last year he took that next step after a sophomore year of games where he was inconsistent, he had WR DeAndre Hopkins and 2014 potential 1st rounder Sammy Watkins and TE Dwayne Allen now with the Colts.
Some QBs are better than they actually are with the talent they have (Tebow, McCoy, Leinart). But Boyd has done a bit of everything at Clemson. He led that impressive win over Georgia to open the season, that was the game that he showcased to NFL scouts that he can handle the national spotlight.
His size is definitely to him the same way it is for Ben Roethlisberger, but he isn't Terrelle Pryor or Cam Newton by any means but can do the same kind of thing with a team as they can.
Even before the season I believed he was a 1st round pick and the loss vs. Florida State doesn't change that whatsoever. He may go between top 10 to the late 1st round but I'm leaning towards top 10 because I think he could the guy who impresses teams and coaches at the Combine in February.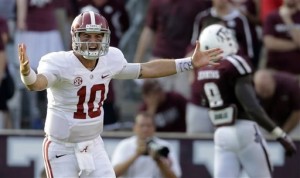 5. AJ McCaron University of Alabama
When it comes to winners in college football I don't think of Tebow, I think of Alabama QB AJ McCaron, he doesn't lose and if it weren't for Manziel's Heisman type performance last October he would be undefeated as a starting QB at Alabama.
Isn't the number one thing you want in a QB to win, yes, but in the NFL you win games differently. That can involve being able to change plays at the line, making that one great throw on a 3rd and long in the 4th quarter with the game on the line, or that run to extend a drive to win the game.
McCaron doesn't have the élite arm every scout drools over, but his intangibles are off the charts but unlike a Christian Ponder, McCaron has game IQ and the ability to improvise that many don't have in the NFL. His other great stength is in the play action game, he can kill defenses thru that.
He maybe a third-fourth round but he could emerge as a guy like Russell Wilson who could take the league by storm if given the opportunity. A veteran team like Houston would be perfect for him to excel in.
AJ McCaron's National Championship Performance
6. Stephen Morris University of Miami (Florida)
Morris has an ACC record for most passing yards in a game with 566, he's been a starter for almost three years, and through all the Nevin Shapiro garbage and probation, he manages to play though all that and get wins in the process.
Now they're in the top 10 in the country now and are looking to be a contender for the first time in more than a decade. Even with the loss of WR Leonard Hankerson, Mike James, and Jimmy Graham in recent years, Morris has improved his numbers.
Morris has a beautiful deep ball, comparable to Joe Flacco in a way though he plays a lot like Dante Culpepper when he was in his early days with the Vikings. Even better is that he's won and hasn't had the incentive of being able to compete in conference championships and national bowl games.
Morris, in my eyes is a second round pick. He's shown me the arm strength and has the leadership qualities of a guy who can play on a numerous amount of Sundays. I think he could be a guy who could start by his second or third year in the NFL, not as a rookie though because I don't feel he's a four quarter player quite yet.
Stephen Morris Shatters ACC Record vs. NC State
7. Zach Mettenberger Louisiana State University
Mettenberger held LSU back last season and it showed in the loss to Alabama when he couldn't move the ball against them at all in the fourth quarter. Granted his counterparts are a dynasty in college football but that didn't stop other QBs from putting up good numbers against Alabama.
Mettenberger has improved juristically through half the season and an advantage is being at 6'5" 235lbs, he has the ability to move in the pocket and make something happen, and he can absolutely gun it to his receivers. His height also prevents his passes from getting blocked.
He kept them in the game vs. Alabama although TJ Yeldon and company were too much for the LSU Tigers. This year so far, Mettenberger has taken the role of the guy who's the reason they win games, and they're still a top 10 team at the moment.
Granted he needs time to improve his skills and I think he's benefit from more talent around, like WRs that actually catch the football and a QB coach would help him immensely.
A first round talent based on arm talent and size but a third rounder based on production and how his game translates to the modern NFL.
Although it's Against UAB he went 16/19 with 5TD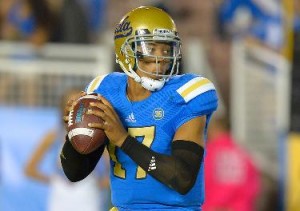 8. Brett Hundley University of California Los Angeles
Hundley is a third year sophomore at UCLA, I give him a lot of credit for bringing UCLA back to relevance but ultimately I have him at #8 because I feel he needs another year to improve his accuracy. But he has that magic word "potential."
Just so everyone knows I root for UCLA in the Pac-12, but I view Hundley the same way I viewed Terrelle Pryor in his early days at Ohio State. He's a raw QB that relies and depends on his ability to move the pocket with his feet. Hundley is big like Pryor, has a big arm, but like Pryor he needs to improve on reads in the intermediate passing game. I think if Joseph Fauria and Jonathan Franklin who're both doing their thing in the NFL were at Pasadena, Hundley's numbers would be better particularly in the redzone.
I will that based on last season's tape, I love his touch, and particularly in throwing towards the sidelines.  But this season, he hasn't had the same aggressiveness to attack the deep part of the fields as he's only had one 300+ passing yard game.
The Stanford confirmed my fears about him as a big time QB in the present as a sophomore. Not a total knock on the guy but it's something that he'll need to do in the next level or else you'll end up at best being a Romo/Palmer/Schaub.
He's an early third for me at the moment, he's slightly inconsistent at times and hasn't had the ability to attack the field the way he did a year ago. But definitely a guy whose skill set resembles a top-10 pick, but like Young/Pryor/Griffin he's a guy who'll at times overuse his feet and that can be a problem. But if he goes back for a junior year mark my words, watch out for UCLA!!
Brett Hundley Lights Up Arizona State 2012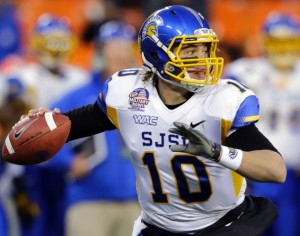 9. David Fales San José State University
With the news about Jeff Garcia, let's share some Spartan you WILL hear about a lot more and will climb with exposure and if some of the underclassmen go back for another year, that's San Jose State's, own David Fales. Watching a few highlight tapes from last year and I noticed three key things about Fales.
One he gets the ball where it needs to be but he needs to deliver the ball A LOT quicker, the safeties in the middle of a defense like an Ed Reed, Kam Chancellor, or Jarius Byrd will either pick it off or simply leave his receiver on his way to a stretcher. But as I said he doesn't miss in terms of location, I would just want to see improve velocity on his middle routes and that's good to go.
The second thing I notice is also something I see in Hundley and Maziel and that's the dependency of one WR. For Manziel it's the big man Mike Evans, for Hundley it was Fauria a year ago, now it's Shaquille Evans. For Fales its #23 Noël Grigsby but at this point he's out with a torn meniscus and may not fully recover in time for a bowl game, but Grigsby was a security blanket for Fales.
The third thing I've noticed is his footwork and instincts; he has the footwork of a man who's done some ballet or a lot of agility during his training because he's very nimble. His quick decisions are a big part of his success and in an Air-Raid type system, the option routes are the focal point of an offense.
The last thing I'll say about Fales is that he was a transfer from a JUCO after spending time at Nevada. Last season he showcased his talents completing over 70% of his passes and 41TDs. I project him as an early 4th rounder due to the lack of zip and that's attributed to a lack of great arm strength. He reminds of a Garcia but in more recent terms I'd say a Matt Hasselbeck.
Fales Leads Spartans to Victory Over BYU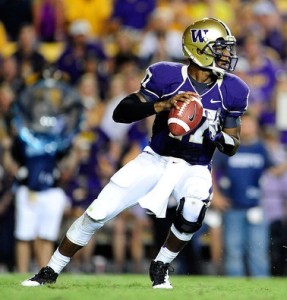 10. Keith Price University of Washington
It would be wrong for me to leave out someone in my opinion is the most unnoticed QB on the FBS level and that's Washington senior Keith Price. A two-year captain for HC Steve Sarkisian who knows a thing or two about coaching and developing QBs, after all he was at USC when Palmer, Leinart, and Cassel were all on the same squad.
Price has helped Washington reemerge as a team in the Top 25 for a certain point this season but after three straight losses to Stanford, Arizona State, and Oregon and they've dropped to 4-3. Price looked pretty rough against Arizona State and Oregon with passes all over the place and the drops at inopportune times of the game.
But against Stanford he showed me the player who I saw as a potential player in his sophomore season, making plays happen on the run and attack the sidelines aggressively. As I said the games after that loss are not way a leader should respond after defeat.
As I mentioned Price had a big sophomore year with Chris Polk in the backfield doing his thing, but since Washington has had trouble with red-zone offense and a lot of that is the lack of a great WR. These aren't the days of Don James when he had Warren Moon to Mark Brunell in his tenure though.
Price is undersized and that mixed with an underwhelming junior season that was filled with high expectations leaves other wondering what has happened. I feel teams key on him a lot more, you see a lot of zone which he sometimes excels and other times the lack of great arm strength shows.
Some say he'll be lucky to be drafted but I feel he'll rebound the rest of the way and will show at the combine and pro days what scouts saw him as a sophomore,  a QB who's quick with his feet and throws a tight spiral, perfect for a West Coast offense. Some compare him to Russell Wilson which I can see, but I see a Chad Pennington with athleticism.
Keith Price Outplays Robert Griffin III Even in Defeat
Photo Courtesy to the Associated Press
Follow me on Twitter @DaDonsVerdict and @FullScaleSport