Jessica Andrade Shows Improvement, Depth of Bantamweight Division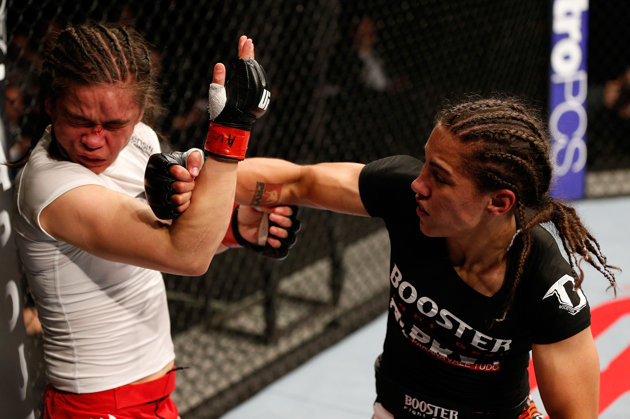 MANCHESTER, England — At only 22 years old, Jessica Andrade was brought to the UFC with hopes to develop into a future star and contender in the inaugural women's bantamweight division. Her performance Saturday backed up her claim of becoming a future star in the UFC.
Her UFC debut came in July versus Liz Carmouche, filling in for Miesha Tate who was originally schedule to fight then. As a relative unknown to many, the Brazilian held her own early against the former number one contender, but eventually fell by second round TKO after Carmouche got a full mount and delivered countless punches and elbows.
Following her loss, Andrade went back to Brazil to work to train for yet another veteran opponent, Rosi Sexton. Many felt Andrade, an underdog Saturday, would struggle with another seasoned fighter who faced the likes of Alexis Davis.
Instead, Andrade put on one of the more impressive displays of fighting at UFC Fight Night 30 in England, winning a lopsided decision over Sexton. Landing countless bombs through all three rounds, she damaged Sexton early and never looked bad. The fight was so one-sided, UFC commentator Joe Rogan thought the fight should have been stopped by doctor's and Sexton's corner after round two, and two of the three judges gave Andrade a 30-26 score, having one round scored 10-8 versus the usual 10-9 scoring system.
With her striking improved, Andrade also showed her cardio was at a high level, never losing any power or showing fatigue while continuing to throw strikes. As for the ground game, she defended every takedown attempt Sexton tried to accomplish, another sign of improvement from her debut against Carmouche.
Before her fight with Carmouche, Andrade said her will to win would propel her to victory in her UFC debut. While that did not happen, her will and desire to earn a convincing win Saturday showed the competitive nature she can provide in the octagon.
As one of the youngest fighters in the UFC, Andrade still has plenty of opportunity to grow in the octagon, and with two big name fights all ready in the books, her future is bright. Her dominant win Saturday proves she can climb her way to contention for the bantamweight title down the road.
Andrade also is one of many fighters showing the potential of the young up-and-comers in the division. Her victory was the fourth all ready in the UFC for a young fighter defeating a veteran in the octagon. Germaine De Randamie defeated Julie Kedzie and Jessica Eye defeated Sarah Kaufmann, both by split decision, while Sarah Moras defeated Tara LaRosa on The Ultimate Fighter this season.
The women's bantamweight division in the UFC is continuing to grow rapidly, and Andrade has made perhaps the biggest impact for the depth of the division with her victory over Sexton. Time will tell where the ceiling is for her, but all indications show outstanding potential for Andrade in the UFC.
Follow Brandon Boles on Twitter: @BrandonBoles
Facebook.com/FullScaleSports
Twitter: @FullScaleSport
(Photo Credit: Zuffa LLC via Getty Images)