Red Sox Even World Series.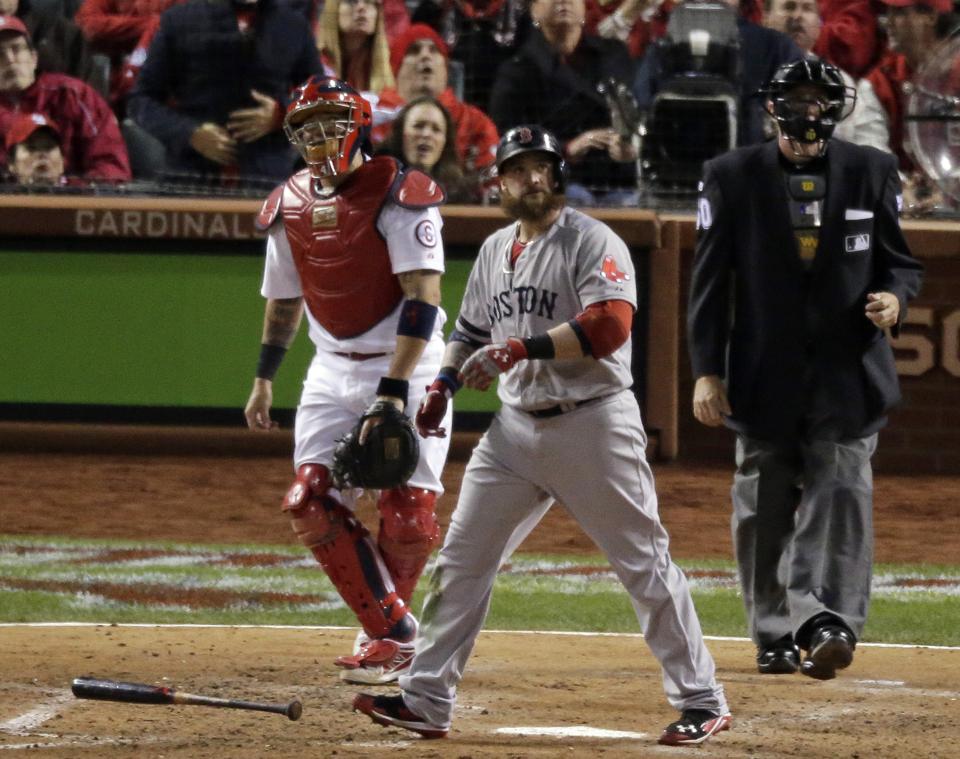 The Boston Red Sox have tied the World Series up at 2 after a 4-2 win tonight.
The ending to this game wasn't as crazy as last night but was still wild. Cardinals pinch runner Kolten Wong was picked off at first by Red Sox closer Koji Uehara to end the game with Carlos Beltran at the plate.
This is the first time in World Series history that a game has ended on a pick off.
The Red Sox got another big hit from an unlikely source tonight in Johnny Gomes hit a 3-run home run into the Red Sox bullpen. The only other run for the Red Sox came in the 4th inning with the bases loaded Stephen Drew hit a sac-fly to score David Ortiz. Red Sox got 6 hits tonight 3 of those came off the bat of David Ortiz.
No one knew what to expect from Red Sox starter Clay Bucholz tonight. Bucholz did more than anyone thought he possibly would do holding the Cardinals bats to 1 unearned run and gave up 4 hits in the 4 innings that he pitched. The Red Sox bullpen (Doubrant, Breslow, Tazawa, Lackey, Uehara) went 5 innings giving up only 1 earned run.
Cardinals had the tying run at the plate in the bottom of the 9th in Carlos Beltran, but Kolten Wong was picked off after pinch running for Allen Craig. The Cardinals struggled to hit with runners on base tonight leaving 8 men on base. Cardinals Carlos Beltran had an RBI single in the 3rd. Matt Carpenter had an RBI single in the 7th inning to cut the lead to two.
Game 5 of the World Series is tomorrow night in St.Louis at 8:07ET. Game 5 starter for the Red Sox will be Jon Lester who started game 1 of the World Series. Lester is 3-1 with an ERA of 1.67 and has 22 strikeouts this postseason. Game 5 starter for the Cardinals will be Adam Wainwright who started game 1 of the World Series. Wainwright is 2-2 with an ERA of 2.25 and has 24 strikeouts this postseason.
Follow Zach Curtis on Twitter: @ZCurtis89
Facebook.com/FullScaleSports Twitter:@FullScaleSport
(AP Photo/Charlie Riedel)