Rose's game winner leads Bulls over Knicks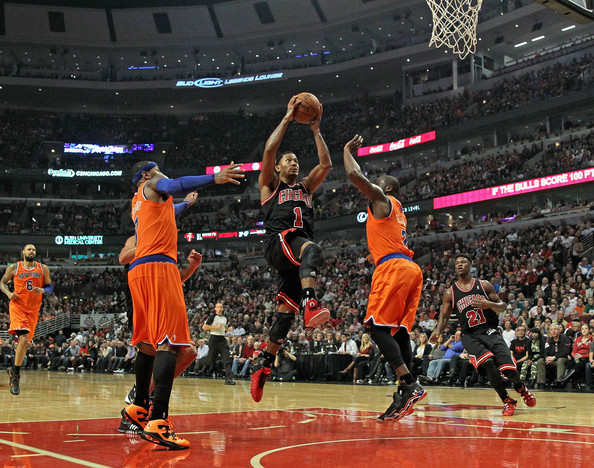 CHICAGO- The MVP chants were loud and consistent, and 2011 MVP Derrick Rose, reminded us all of who he was.
Derrick Rose returned for the United Center in a regular season or playoff game, for the first time since 2011. Rose hit the  game-winning, baseline floater with 5.7 seconds remaining the fourth quarter, as the Bulls defeated the New York Knicks 82-81. Rose finished the game with 18 points on 7-23 shooting, adding 6 rebounds, three assists, and four turnovers.
Battling through a sore neck, Rose got a standing ovation when introduced by the PA announcer as the Bulls played in their 2013 home opener. All in all, the Bulls starting five of Jimmy Butler, Luol Deng, Joakim Noah, and Carlos Boozer, who had 31 points in the loss to Miami on Tuesday, all played major factors in the win.
For Noah and Boozer, they had majority control of the paint against the Knicks, as big men Tyson Chandler,  Amar'e Stoudemire, and Andrea Bargnani combined for a total of 21 points. Noah was able to pull down 15 rebounds and six points, while Boozer added 14 points and 7 rebounds.
As for Butler and Deng, double-digit contributions were in tact. Butler had 11 points and added 10 rebounds, while Deng, who only had four points in Tuesday's loss to Miami recovered nicely. Deng got the Bulls off to a hot start and finished with 17 points for the night.
Meanwhile for the Knicks, it was a familiar scene. Carmelo Anthony played 42 minutes and on 8-24 shooting, scored 22 points while adding 6 assists, 6 rebounds, and 6 steals. After Anthony, it was Raymond Felton's 13, and rookie Tim Hardaway Jr's 10 points trailing in that department.
Not all was bad for Knicks fans as former Defensive Player Of the Year, Tyson Chandler has looked like his old self through two games with tenacious defense and rebounding. Chandler 19 rebounds, with 7 points, and four blocks in 36 minutes of action. Knicks power forward Amar'e Stoudemire made his season debut playing 11 minutes and dropping in five points.
With 22 turnovers in their first game, the Knicks cut it down big time in the second half after having double digits in the first half, as they ended with 15 total.
Both teams are 1-1 on the season, with Chicago headed to Philadelphia on Saturday while the Knicks will get a few days of rest before hosting the Timberwolves on Sunday.
Derrick Rose's game winner (Video courtesy NBA)

Follow Mike Pendleton on Twitter @MP2310
Facebook.com/FullScaleSports Twitter:@FullScaleSport
Photo credit: (Jonathan Daniel/Getty Images)