Report: James Harden Allegedly Being Sued For Punching A Kobe Fan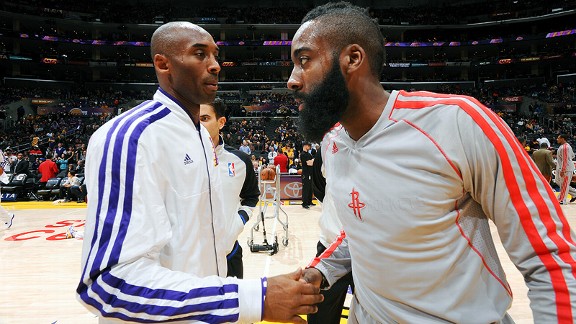 There's been ongoing debates about who's the best shooting guard in the NBA, Kobe Bryant or James Harden?
You can't go wrong with either guy, but apparently James Harden takes it personal when fans bring up Kobe's name around him.
According to the lawsuit, Harden was on his way out of Greystone Manor nightclub in West Hollywood November 3rd — riding in the back seat of some SUV — when he rolled the window down to greet fans.

That's when a man named Barak Golan says he shouted at Harden, "Kobe owns your ass!" and Harden allegedly socked him in the face.
I'm going to wait until all the facts come out, but regardless if this is the truth or not, it gives Lakers fans another Rockets player to boo.
Follow Mark Gunnels @MarkAGunnels
Facebook.com/FullScaleSports
Twitter: @FullScaleSport