Chargers Dash Giants Playoffs Hopes Win 37-14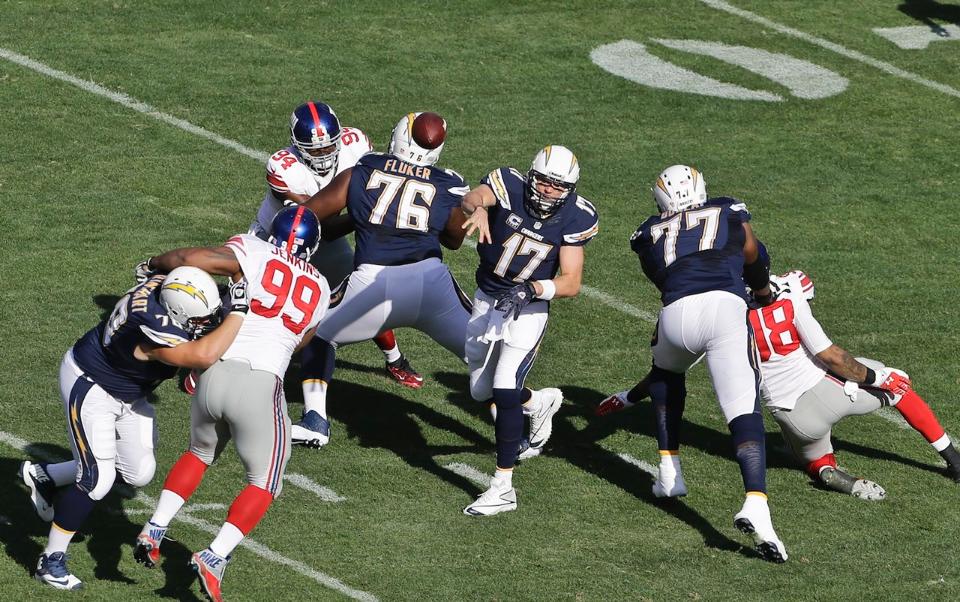 SAN DIEGO, Ca- The Chargers kept their playoff hopes alive and are now 6-7 but a Ravens win still has them on the outside of the wild card race. The Giants drop to 5-8 and out of the playoff race with teams like the 49ers and Panthers so far out in front of them for the wild card. Philip Rivers was on top of his game tossing 3 touchdown passes and they jumped on the Giants right away. The Giants turned over the ball 3 times which has been a consistent problem of their's. Having Andre Brown back to help their running game does not help when the team is forced to pass the ball due to large deficits. The defense gave up 24 and the offense did not score in the first half and the team just looks out of sync. The team ended up with 72 penalty yards and only forced one turnover contributing to the team not doing the little things that win games.
Rivers dominated throwing 2 of his touchdowns to favorite target Keenan Allen. He fumbled to start the 3rd quarter as the Giants got good pressure but he locked down again and led his team to victory. Ryan Matthews who has been banged up this year ran for 103 yards and a touchdown and Danny Woodhead finished with 94 total yards. With solid backs Rivers has his safety net but he played well enough to win comfortably. The defense also stepped up big picking off Eli Manning twice with 71 interception return yards. Nick Novak also knocked down all 3 field goals with ease, he had missed one but the undisciplined Giants were in the neutral zone and Novak made the re-kick.
Justin Tuck was one bright spot for the Giants with his 2 sacks and he appeared to hit his groove again this season. He has 7 sacks in the last 3 games and the Giants were able to pressure Rivers but the Charger quarterback was just too good completing 21 of his 28 passes. Manning threw well to Hakeem Nicks who finished with another 100+ yard game with no touchdown as Manning's lone touchdown went to Brandon Myers at tight end. Backup runningback Peyton Hillis who has not seen much time since Brown's return, scored a goal line touchdown. The Giants now look to finish strong and change things up in the offseason, while the Chargers must win some games to get in the playoffs.
Follow Shane Wellman on Twitter: @ASAPwell
facebook.com/FullScaleSports   Twitter: @FullScaleSport
Photo Cred: Chargers.com