Pau Gasol Says Mike D'Antoni Is Sometimes All Over The Place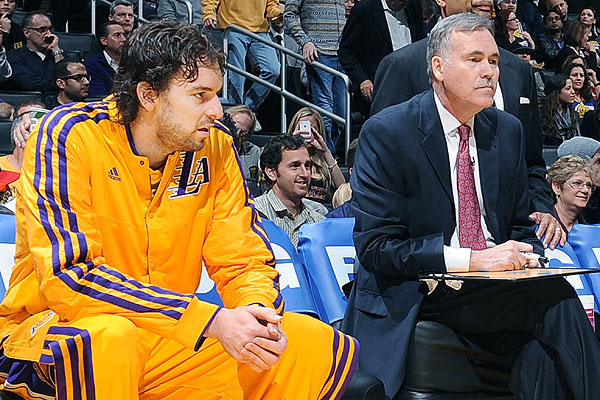 Lakers fans love using Mike D'Antoni and Pau Gasol as scapegoats when things aren't going well in LA. That's why its pretty ironic the two don't see eye-to-eye.
Gasol is very frustrated with D'Antoni's offense because it doesn't put him in position to succeed.
"The fact that I'm not getting the ball in the post affects directly my aggressiveness," he said. "When I'm not getting the ball where I want to, where I'm most effective, where I can bang guys and utilize my skill, that affects my aggressiveness and overall intensity….

"This year hasn't been ideal, certain things are not ideal for me, but that's not going to change any time soon," he said.
D'Antoni doesn't see the problem.
"I can't lie to him… Our numbers tell us the worst thing we do is post up," he said.
What was Gasol's response?
"I don't pay attention. Mike is sometimes all over the place, I don't give much credit to things like that," he said.
Follow Mark Gunnels @MarkAGunnels
Facebook.com/FullScaleSports
Twitter: @FullScaleSport