Who Is Number One Now?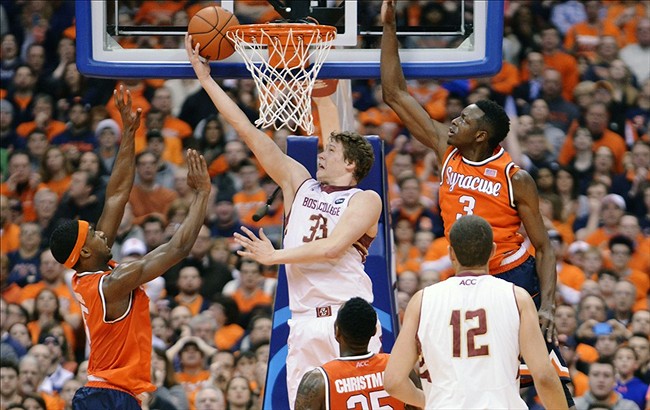 Boston College sent a wave across the country  upsetting undefeated Syracuse on their home court and throughout the country several top 25 teams had trouble. With the loss of number 1 Syracuse can they maintain the top spot or can someone unseat them? Especially since they lost at home where they Orange are nearly unbeatable with their talent and the coaching of Jim Boeheim.
The #2 Florida Gators(24-2) struggled against one of the weaker teams in the SEC in the Auburn Tigers and were down 8 at the half but came back to win by 5. They could be a favorite to take the top spot if it were not for the only undefeated team left in Wichita State(28-0). The only problem with the Wichita State Shockers is their only top 25 win was at Saint Louis(24-2). Even so with their dominance in the MVC (15-0) has the in the top 3 currently and possibly on the rise with 3 games left for them to improve.
The Arizona Wildcats barely scraped by the Utah Utes 67-63 in overtime and Aaron Gordon only scored 3 points and fouled out very early. They stand at 24-2 and are the best in the Pac-12 but are they better than a 1 loss 'Cuse team? #7 Cincinnati has been one of the best teams in the nation since mid-December besides a blemish at SMU, they face 3 ranked AAC teams in a row and may not win all of them but they will be battle-tested for the NCAA tournament. Number 5 Duke plays at UNC tonight due to the snowstorm last week, and Jabari Parker is averaging 19.2 points a game to go with 8.7 rebounds a game. Playing in a hostile North Carolina environment will test this team for sure and with a win they could surely enter the top 3. Duke's 2 losses are both by under 6 points and came against #1 Syracuse and at the time #4 Arizona.
With all that said Florida and Wichita State are the front-runners to be the top team in the nation, and Wichita could go undefeated but against lesser competition. UF still has to play a top 25 team in Kentucky to prove themselves worthy of the top spot in the last game of their season. Syracuse still has a tough Duke team they must play on the road, and #14 ranked UVA. In 2 days a top 5 battle will be on display with Cuse being lead by Tyler Cooney and C.J Fair for Syracuse(30 points a game combined) facing Parker and co on Duke's home court. Both Duke and Syracuse are well coached and ultra-talented, and the winner of that game on the 22nd is who I think should be ranked #1 in the nation.
Follow Shane Wellman on Twitter: @ASAPwell
facebook.com/FullScaleSports
Photo Cred: USA Today Sports