Usain Bolt has record-breaking cleats stolen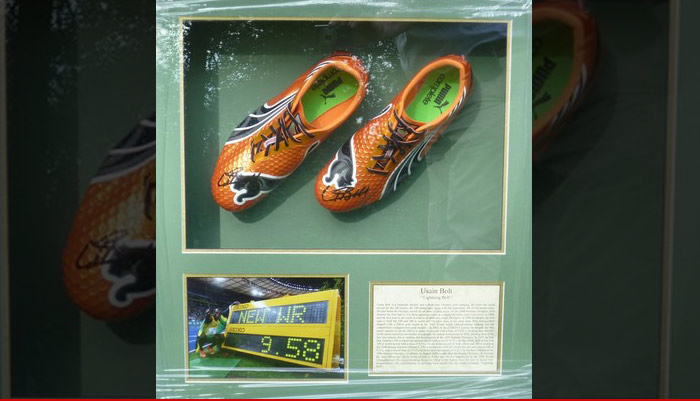 Seriously, who would do this? According to TMZ, Olympian gold medalist Usain Bolt had his pair of record-breaking sprinting cleats stolen. Bolt wore the cleats in 2009 when he broke the world in the 100m dash, and they were being displayed in a commercial building in London.
The cleats were signed by Bolt and valued to be worth more than $20,000. Shortly after the incident, Bolt took to Twitter to call out the thieves.
I know u love me..but please why u had to go stealing that signed Usain Bolt spikes in Croydon, England..I know u going to return it. Right?

— Usain St. Leo Bolt (@usainbolt) May 6, 2014
Breaking News..All you had to do was just ask me for one..No need to go stealing the ppl things..Come on now.. pic.twitter.com/9kapTKbNyM

— Usain St. Leo Bolt (@usainbolt) May 6, 2014
After pleading his case to get the cleats returned, Bolt posted this photo of himself signing new cleats, saying it's "only natural he signs some spikes".
Only natural I sign sum spikes after one of my overly excited fan stole that one..FedEx straight to London later pic.twitter.com/j6brJuT1E5

— Usain St. Leo Bolt (@usainbolt) May 6, 2014
What a generous deed by Bolt to send new cleats back to London, and here's to hoping that the original record breakers are found and returned, while the thieves are rightfully punished.
H/T TMZ
Follow Mike Pendleton on Twitter @MP2310
Facebook.com/FullScaleSports Twitter:@FullScaleSport
Photo credit: (TMZ)