Takeaways From Week 4 Of The College Football Season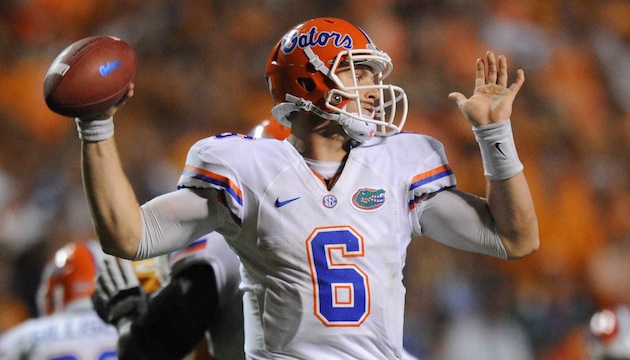 Any doubts about Stanford were quelled after it ran out to a huge lead against ranked Arizona State on Saturday night. And why were there doubts? Because the Cardinal was not widely impressive in a 9 a.m. PT start at Army last week? C'mon. This is the same run-and-play-defense style that has held up, and held up well, in the post-Andrew Luck era.
• How high can Florida State's Jameis Winston go during this freshman season? Or maybe the better question is: When will he face a defense — and a secondary — that can test him? I don't think it's Oct. 19 at Clemson. It might be Nov. 2 against Miami. Or it could be Maryland in two weeks.
The Terrapins could be a team to watch this season in the ACC, and they definitely looked good shutting out West Virginia 37-0 on Saturday.
• Baylor's scoring through three games is through the roof two 70s and a 69. The narrative for Baylor hasn't changed, however, because those win outputs came against Wofford, Buffalo and Louisiana-Monroe. I still want to see how the defense looks versus Big 12 opponents.
With Oklahoma State starting slow on offense this season, Texas dealing with several issues and Oklahoma and Kansas State not looking like what they were a year ago, more and more people are jumping on the bandwagon for Baylor to win the Big 12. I've said all along that if Baylor's defense can resemble Oklahoma State's from two seasons ago — forcing turnovers and getting red zone stops to negate the yardage given up — the Bears will be in good shape. They had two pick-sixes on Saturday, a very promising sign.
• What's the future plan for Virginia Tech, once longtime Hokies coach Frank Beamer is no longer running the program? It's worth wondering after another lackluster showing in a triple-OT win against Marshall, on the heels of a 15-10 win against East Carolina.
In theory, defensive coordinator Bud Foster has been hanging around for his shot at a head-coaching job. That would create continuity, of course; but is continuity a good thing at this point?
If Tech does look outside the program, it could be a tough sell to land a top-level candidate. Sustainability at Virginia Tech isn't what it once was, with the additions to the ACC and recruiting being far fiercer than when Beamer had the Hokies rolling. It isn't time for panic, but it's worth wondering what the future holds for what's been a highly consistent program.
And then there was this…..