Jets win on overtime field goal against Patriots after controversial penalty 30-27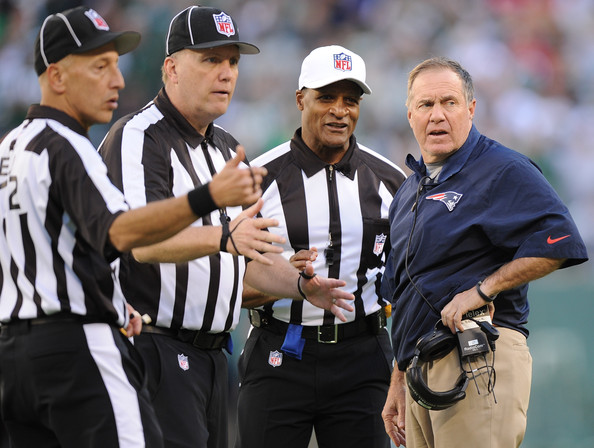 EAST RUTHERFORD, New Jersey—These two rivals battled back and forth but in the end Nick Folk nailed a 42 yard field goal to win the game 30-27. This came shortly after rookie Chris Jones was thrown a flag on for a new rule for an unsportsmanlike conduct as the Jets missed a 56 yard that would have given the Patriots the ball back.
The Patriots(5-2) looked lost on defense without starters Vince Wilfork, Jerod Mayo, Aqib Talib, and Tommy Kelly and gave up 177 rushing yards. Logan Ryan had an early interception return for a touchdown of 79 yards to put the team up 14-7. Geno Smith ran for a score and threw for one and outplayed Tom Brady throughout the game.  Brady also threw a pick six of his own of 23 yards to Jets defensive back Antonio Allen, and did not throw a touchdown pass for the second time in three games.
The defensive line of the Jets was very impressive sacking Brady 4 times and holding the team to 90 yards.  Stevan Ridley and Brandon Bolden both averaged 4.5 yards a carry and scored but the Patriots only ran the ball 20 times and many are questioning Josh McDaniels play calling. This brought up especially since Brady finished 22 of 46 and only averaged 5 yards an attempt. The return of Rob Gronkowski was felt though as he was targeted 17 times and came down with 8 catches for 114 yards. No other receiver was targeted half as many times as Gronkowski was and Julian Edelman was second with 44 yards receiving.
Not to take away from the success of the Jets defense which made Brady feel uncomfortable in the pocket and prevented big plays.  Also the Patriots only converted 1 third down conversion out of 12. With the defensive pressure the offense dominated the time of possession by about double 46 minutes to the Patriots 23. Geno Smith found his receivers and was mistake free after his pick 6. With Chris Ivory gaining 104 yards on the ground the Jets ate up the clock and rested their defense well to face Brady and co.
Overall both quarterback's completion percentages were low and the game was largely a defensive battle. The Jets won due to clock management and their late FG lifting them to a victory of their division rival the Patriots.
Follow Shane on Twitter @ASAPwell
Facebook.com/FullScaleSports Twitter: @FullScaleSport
Photo Cred (Maddie Meyer/Getty Images)