Comparisons of Dez Bryant to Calvin Johnson Are Real and Deserved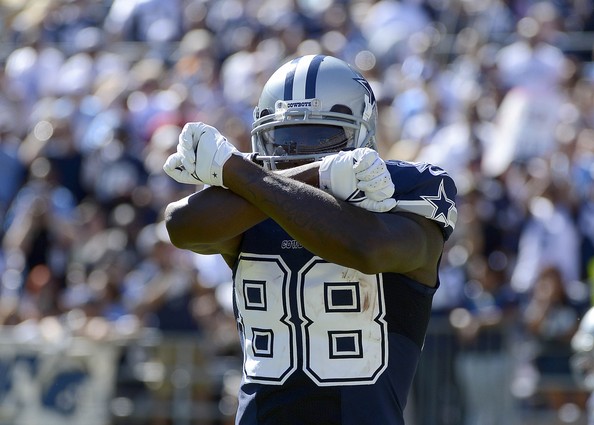 As the Dallas Cowboys and Detroit Lions set to face off for the second time since 2011, meaning it's the second time we'll see Calvin Johnson and Dez Bryant. The star wide receivers will face off yet again and this time, it may come with more fireworks. Back in 2011, Johnson had 8 catches for 96 yards and one touchdown, as the Lions defeated the Cowboys 34-30. Dez Bryant didn't have the same stat line, but did catch more touchdowns as he had three catches for 37 yards, and two touchdowns.
Fast forward to 2013 and both Johnson and Bryant are among the top receivers in the league, and hands down the top receivers on their respective teams. With that, come comparisons. As we take a look into the two playmakers, Johnson stands 6'5″ and weighs 236-pounds at 28 years old, and 7 years in the league, while Bryant stands 6'2″ weighs 222-pounds at 24 years old and 4 years in the league.
For a sample size, here's a breakdown of each receivers first three years in the league:
Dez Bryant (2010-2012): 200 receptions, 2,871 yards, 27 touchdowns in 43 games played
Calvin Johnson (2007-2009): 193 receptions, 3,071 yards, 21 touchdowns in 45 games played.
Quarterbacks are certainly an additional emphasis on these numbers, as Tony Romo has been Dez's quarterback since his arrival meanwhile Calvin went through the likes of Jon Kitna, Dan Orlovsky, Daunte Culpepper, and Matthew Stafford in his first seasons.
This debate, brought by comments made by Bryant earlier this week, come full circle as we fast forward to 2013. When asked about what he can do as a receiver in comparisons to Johnson, Bryant said:
"I believe I can do whatever he can do," Bryant said. "I think it's just a pride thing. When it comes to football, just being on the field, it's a mindset and having a mentality. I honestly believe when I'm there, I'll be feeling like there's nothing I can't do. Whatever the coaches ask me to do, I'm going to do it." (ESPN.com)
Lions receiver Nate Burelson, didn't agree saying:
"He possesses all the tools to possibly be as good as Calvin," Burleson said via the Lions' website. "But he's not Calvin Johnson. No way, no how. Sorry, Dez. Keep it real."
So, let's keep it real in 2013.
Bryant: 10 targets per game, 6.0 receptions, 81.3 yards per game and six touchdowns on the season
Johnson: 10.2 targets per game, 5.5 receptions, 82.0 yards per game and six touchdowns on the season
Are you starting to see the similarities between the two?
Much has been said for young receivers making an impact across the league, including Bryant, Atlanta's Julio Jones (out for the season) and Cincinnati's AJ Green (who led the Bengals to win over the Lions in 2013), but can any of them compete with Calvin?
Calvin Johnson has been a franchise savior, a record-breaker, a calm, cool, and collected person off the field, and an absolute monster on the field.
Dez Bryant has been labeled as a character, found his name in negative situations late in his collegiate career and early in his NFL career, and even titled "diva". As 2012 came to an end, so did the drama surrounding Bryant. His 1,448 receiving yards since Week 10 of the 2012 season rank behind only Johnson (1,689) and Andre Johnson of the Houston Texans (1,620). Also since that time, Bryant leads the league with 16 touchdown receptions, while Johnson ranks fourth with 10.
Bryant has had guys like Jason Witten, Miles Austin, and even Laurent Robinson around the offense to help relieve pressure off of him, but in 2013, he's the man. His presence and production has been enough to keep the Cowboys atop the NFC East even without Miles Austin, and has also played a part in rookie Terrance Williams' recent success.
Calvin Johnson has been given the comparisons of league greats Jerry Rice, Randy Moss, and Terrell Owens (minus the personalities), and as of now, Bryant's trying to catch up.
Contrary to popular belief, Bryant surpasses both Julio Jones and AJ Green when it comes to potential and production. As he plays catch-up to only Calvin Johnson, fans will get to witness yet another great showdown of these two great receivers. One man, a constant professional, class act, and Hall Of Fame potential receiver in Calvin Johnson; the other man a former "diva" with a troubled past, fighting his way up the depth chart, fighting for his respect around the league in Dez Bryant.
"Weapon X" may be dangerous, but only one thing will set these two competitors from each other: a Super Bowl championship.
Follow Mike Pendleton on Twitter: @MP2310
Facebook.com/FullScaleSports Twitter:@FullScaleSport
Photo credit: (Donald Miralle/Getty Images)