Jets vs Bengals: Must win for Geno Smith's rookie season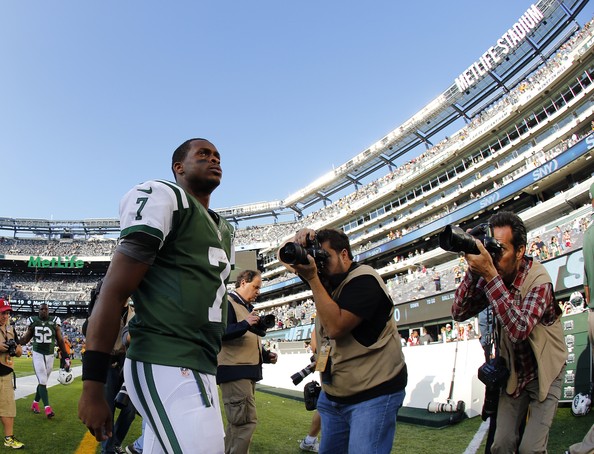 Remember when the Jets had a quarterback controversy? Remember when Rex Ryan was on the hottest of all hot seats? Remember when Geno Smith was going to struggle mightly in his rookie season? Fast forward to the halfway point of the 2013 NFL season and Geno's Jets are 4-3 with marquee wins over Tom Brady and the Patriots, as well as Matt Ryan and the Atlanta Falcons.
Oh by the way, they are Geno's Jets. It sounds weird to call him Smith, or Geno Smith, so we'll stick with Geno. With that said, Geno has four-game winning drives in either the fourth or overtime quarters, meaning he's led this team to victory in late stages, when called upon to do so. Geno's also one of eight quarterbacks to win games in the fourth quarter this year. In that listing, Geno ranks third to Andrew Luck (9), and Russell Wilson (7).
Let's set the record straight as well, Geno has done this with a sub-par receiving core missing Santonio Holmes. Jeremy Kerley, Stephen Hill, and Jeff Cumberland have all been Smith's go-to targets and they're finding a way to get it done. On the field, Smith has the confidence of his teammates, an established running game, and one of the league's best defenses helping him get it all done.
Off the field, Geno Smith has one thing riding for him, and it's the backing support of head coach Rex Ryan. Two men who came into the 2013-14 with tons of criticism, questions, and attention have answered all critics in surprising fashion, by winning. Winning heals everything in the NFL, so can it continue?
The Jets (4-3) will take on the Cincinnati Bengals (5-2) in Cincinnati on Sunday in what could prove to be make-or-break on the Jets' playoff hopes. As the Bengals continue to prove themselves as the top team in the AFC North, and a contender in the very tough AFC, the Jets are out to prove they're more than just upset wins.
While the team sits in second place in the AFC East, a win in Cincinnati and a loss by the Patriots would leap the Jets into a tie for first-place. This game also will prepare the Jets for their other big challenge in the New Orleans Saints, who will follow this week's game, next week. AJ Green and Andy Dalton have been firing on all cylinders, but the Jets present a defense that is ranked 10th in passing in defense, and second in rushing defense among the league.
What about Geno? The rookie quarterback will be looking to get yet another tough road win that places him against one of the best defenses in the league. Cincinnati has their own Geno, in Pro-Bowl defensive tackle Geno Atkins who leads the Bengals and their 8th ranked rush defense, and 13th ranked pass defense among the league.
While the numbers may be intimidating, one offensive number may come as easing. The Jets ran the ball 52 times last week against New England and may have to do the same again this week if they want to keep pressure off their rookie. One other positive for Geno and the Jets is his dual-threat to make plays with both his legs and arm on offense, as he showcased with an 8-yard touchdown run last week.
While the Jets sit at a surprising 4-3, with Geno Smith as their starter, this may be their toughest challenge yet. With another powerhouse team in the Saints waiting in the wings, and one game out of first place, the Jets can not afford to go 0-2 in this two-game span.
Best case scenario, the Jets are able to pull off the win on the road, Geno would get even more love and support from Rex Ryan, and the Jets would be fully implanted to a divisional race with the Patriots. One thing that Jet fans can hope for that Bengals fans shouldn't, a close game in the fourth quarter. Geno's got four wins in those situations.
Follow Mike Pendleton on Twitter @MP2310
Facebook.com/FullScaleSports Twitter:@FullScaleSport
Photo credit: (Rich Schultz/Getty Images)