Aaron Rodgers Injury Could Cost Him 3 Weeks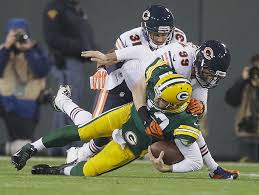 GREEN BAY, Wi- Star quarterback Aaron Rodgers went down yesterday in the Packers Monday night contest against the Chicago Bears. The Packers went on to lose and Rodgers did not return and leaving Green Bay fans on edge. The news came in today that Rodgers has a small fracture on his left shoulder that could result in 3 weeks missed time. The former super bowl winner has played before with a separated left shoulder but this injury looks to be to much to fight through.
The teams passing offense looked shaky with Seneca Wallace under center and the Packers could potentially sign a free agent for the weeks Rodgers is out. Teams will focus on rookie running back Eddie Lacy more who has broken out averaging 4.4 yards a carry with 4 td's, backup James Starks is averaging 6 yards a carry with 3 td's as well. Rodgers being missing affects the whole entire team and the offensive and defensive game planning. Already down Clay Matthews on defense and wide receiver Randall Cobb on offense losing Rodgers is the biggest injury of all.
The Packers have the Eagles, Giants, and the Vikings within the next 3 weeks and will hopefully have Rodgers back after then. None of those teams have a winning record so hopefully the Packers stay competitive till Rodgers comes back to push for the playoffs currently at 5-3.
Follow Shane Wellman on Twitter: @ASAPwell
facebook.com/FullScaleSports   Twitter: @FullScaleSport
Photo Cred: AP Photo