Cat Zingano May No Longer Be Top Contender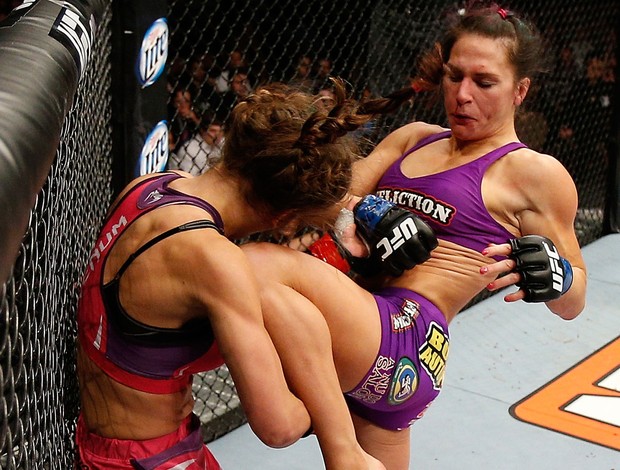 The newly formed women's bantamweight division in the UFC has been a hit since its inception back in February, and with plenty of eye opening fights over the previous months, has displayed the depth of the 135 pound weight class. With many up and comers knocking off the more big name fighters in the division, the UFC seems uncertain where everyone ranks in title contention. All but the number one title contender spot.
Until now.
The number one title contender in the women's bantamweight division has been Cat Zingano ever since she won the second ever women's MMA fight in the UFC back at The Ultimate Fighter 17 Finale in April with her TKO win over Miesha Tate. Following her win, Zingano was slated to coach on season 18 of The Ultimate Fighter against current champion Ronda Rousey, and then the two coaches would fight for the title following the season.
While training after her first UFC fight, Zingano suffered a knee injury and had to withdraw from coaching on The Ultimate Fighter and would not be ready in time to face Rousey. So, the UFC gave the coaching responsibilities and title fight to Tate, declaring she was the next best option.
Continuing to rehab, Zingano took a slight step back in her rehab process, after an additional operation was needed to be done on her other knee. It appeared Zingano would next perhaps a couple extra months of rehab, then look to fight for the title against the winner of the Rousey vs. Tate fight scheduled in December.
Those plans now seemed to have changed, and Zingano took to Twitter to express her frustration on losing the title of being the undisputed top contender in the division.
Ive never wanted to smash someone so bad in my life. So damn motivated for my @UFC career.I may be down, but my mind is stronger then ever!

— Alpha Cat Zingano (@CatZingano) November 7, 2013
Zingano has put well over 100 percent into her rehab, including PRP and stem cell treatment on both of her knees a month ago, but her motivated tweet may be linked to a bigger change than coming back strong from her injury:
"@Rentro29: @CatZingano gots to fight to become #1 contender again? Cool my babe will run through whoever to get it @danawhite" and I will

— Alpha Cat Zingano (@CatZingano) November 7, 2013
The shakeup that began in the women's bantamweight division was something the UFC did not expect early on. Tate, Sarah Kaufmann, Rosi Sexton, and Julie Kedzie were some of the biggest name fighters brought to the division, but all lost in their UFC debuts. Sara McMann, who was victorious in her first fight, had to pull from her second scheduled fight against Kaufmann and has been rehabbing her own injury.
However, one other big name fighter the UFC brought from Strikeforce, Alexis Davis, has shined in her early UFC career. She earned two decisive decision wins over Sexton and Carmouche, and with her latest win Wednesday, seems to have gotten the attention of her new fight promoter.
Following her win at Fight For The Troops, Davis was asked if she would want to fight Zingano in a title eliminator fight next, which she replied was where she wants to be. So, rather than Zingano automatically earning the next UFC title shot, she would face Davis, and the winner would move on to a title shot.
This isn't the first time the UFC has looked at title contention issues this year. After giving UFC light heavyweight champion Jon Jones his toughest fight in perhaps the fight of the year, Alexander Gustafsson getting an immediate rematch seemed possible, but was turned down. The UFC is also looking into removing titles and title contention standings if a fighter is out for a prolonged period of time due to injury, as current bantamweight champion Dominick Cruz will have not fought for over two years when he makes his return to the octagon at UFC 169 February 1.
Davis has come off looking like a legitimate contender in both her UFC fights, while Zingano was given the first opportunity to be the top contender. Now, it appears both will cross paths and determine the number one contender in the division at some point in 2014.
Follow Brandon Boles on Twitter: @BrandonBoles
Facebook.com/FullScaleSports
Twitter: @FullScaleSport
(Photo Credit: UFC/Divulgação)