Clippers remain undefeated at home as Ibaka, Barnes ejected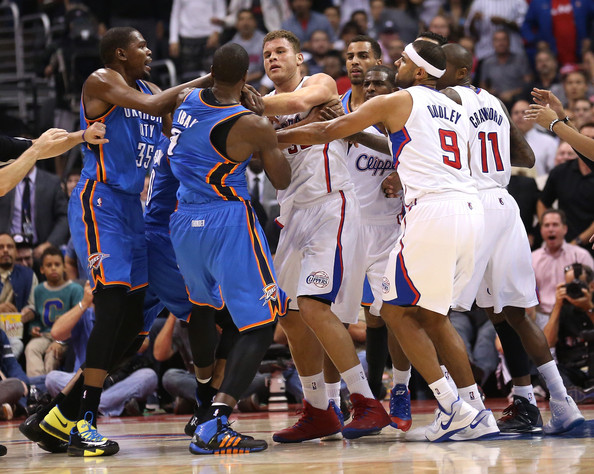 LOS ANGELES- As long as the Clippers are labeled the home team, Staples Center is their safe haven.
The Clippers hosted the Oklahoma City Thunder on Wednesday night, as they looked to improve to 4-0 at home. Behind Blake Griffin's 22 points, 12 rebounds, and 7 assists the Clippers knocked off the Thunder 111-103. Griffin's statistical performance wasn't the only contribution he made on the night, as he was involved in first-half scuffle with Serge Ibaka.
Late in the first half as Griffin grabbed an offensive rebound, and went up for the putback, he was fouled by Thabo Sefolosha, but got tangled with Ibaka, and the shoving began. Ibaka curled up his fist, but did not swing, and Clippers forward Matt Barnes got involved, pushing and shoving, and the two were ejected, while Griffin received a technical.

Matt Barnes made headlines of his own posting a tweet saying: "I love my teammates like family, but I'm DONE standing up for these ni****! All this sh** does is cost me money". The post has since been deleted, but Barnes is likely to be fined for using social media during game play, and for his role in the scuffle.
Back on the court, it was a strong first half by the Thunder who were led by Kevin Durant's 33 points, 10 assists, and 6 rebounds, while point guard Russell Westbrook added 19 points and 10 assists of his own. The Thunder gave up an 8-0 run to start the fourth quarter, and never recovered as Jamal Crawford's 20 points off the bench came in majority of the fourth quarter.
Last season the Thunder swept the three games in which they played the Clippers. Clippers point guard Chris Paul finished with 14 points and 16 assists, his 9th consecutive double-double, and longest such streak to start a season. It is also the longest streak for a player since Magic Johnson had 11th consecutive double-doubles with the Lakers in 1990-91.
This was also Oklahoma City's first game without center Kendrick Perkins as he is in Texas for the funeral of his grandfather, who passed away on Monday.
Follow Mike Pendleton on Twitter @MP2310
Facebook.com/FullScaleSports Twitter:@FullScaleSport
Photo credit: (Stephen Dunn/Getty Images)