Week 13 FA and Waiver Wire Adds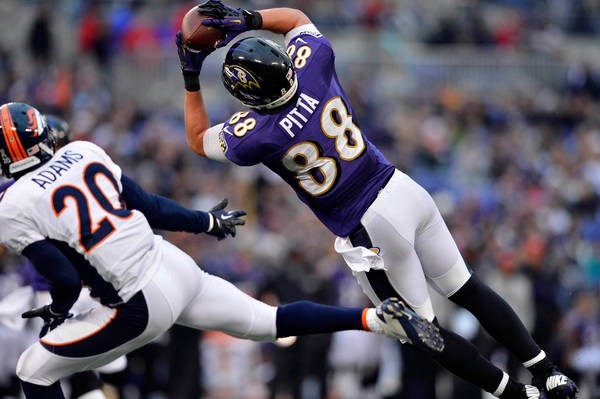 We're a week away from the playoffs in most leagues and this waiver week my be the most important.
Here's your week 13 top waiver grabs:
Dennis Johnson, HOU RB - It's oh so confusing what is going on in Houston, but you can't just ignore the fact that Johnson produced when given the opportunity.  If Tate misses time or gets shut down, DJ is an even better pick up.
Dennis Pitta, BAL TE - TE is probably the most skittish position in fantasy unless you have Graham, Gronk or Davis.  Baltimore gets their guy back and it's been clear they have missed him.
Brandon Bolden, NE RB-  Ridley AKA Fumbles is in the dog house. He most likely will get another chance, but the question is when.  Vereen is great, but he's not a pure RB, which is why you saw Bolden get a lot of work on the ground.  You could do worse in week 13.
Justin Hunter, TEN WR - The Titans have worked Hunter in little by little throughout the 2013 season, but last weekend was his coming out party.  He probably still is #3 in the food chain, but the big play ability and Red Zone threat is there.
Miles Austin, DAL WR - Throwing darts in the dark. 
Ronnie Brown, SD RB - If Matthews is forced to miss time with a hamstring injury, Browns workload will expand. He'll still be behind Woodhead, but he'll get enough to warrant flex play.
Tiquan Underwood, TB WR  - I'm not buying last Sundays performance, but if you need WR depth, he's worth picking up and stashing.
Bills D/ST, Dolphins D/ST, Jaguars D/ST  - Sneaky good potential defensive fillers.
EJ Manuel BUF ,  Carson Palmer ARI  - Scared of your match up, potential QB fillers
 (Photo Credit:Ron Chenoy-USA TODAY )
Send your fantasy football questions to [email protected] for Thursday Mailbags.

Follow Joshua Perry on Twitter @JoshuaPerry84
Facebook.com/FullScaleSports Twitter:@FullScaleSport