Chicago Bears: 2014 Breakout Player: Marquess Wilson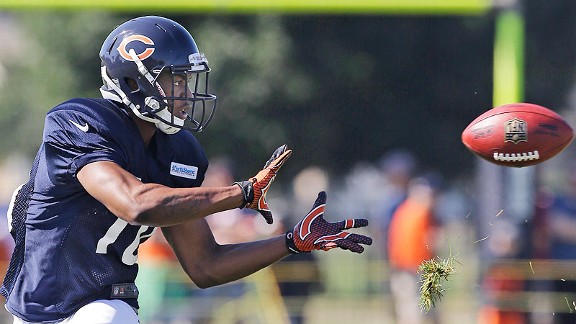 Every day for the next 32 days, I will be publishing  a team-by-team piece on one player who is a breakout candidate for each team. Starting with the Chicago Bears, this third-year player is going to a key component to the offense, while sitting behind two Pro Bowl receivers.
The 2014 Breakout Player for the Chicago Bears is none other than:
Marquess Wilson
Plenty of people on my Facebook and Twitter commented that this would be the choice, and it really makes sense as to why Wilson fits best here. Little known fact about Wilson, he stands 6'3″, the same height as Alshon Jeffery, and one inch shorter than Brandon Marshall. Meaning, Jay Cutler is going to have some legitimate big targets this season.
While Jeffery and Marshall have made their way to Pro Bowl appearances and big productive seasons, Wilson has been stuck behind Earl Bennett on the depth chart. The Bears released Bennett this off-season who eventually signed with the Cleveland Browns, and the move elevated Wilson to the slot receiver, the #3 target in this offense.
Here's a nice reminder of what Wilson did in college, hoping he brings to Chicago's offense in 2014.
Coming into his second year, the expectations are high on Wilson who is tall enough to go out and grab them. Wilson isn't your average #3 or slot receiver, he's got the makings to be a solid #2 if not #1 option on some teams in the NFL. He had two catches for 13 yards last season, his rookie year, but clearly has shown the coaching staff enough for them to put all their confidence in him.
There are plenty of reasons to say a guy like linebacker Jon Bostic is a breakout candidate as well, but if Marshall, Jeffery, and Wilson all play to their highest of potential this season, it'll be a nightmare from hell for opposing defenses.
He's listed as the third receiver on the depth chart, but given the right opportunities and playing alongside two of the NFL's best, all Marquess Wilson has to do is make the right plays in 2014. No dropped passes, no fighting for the spotlight, just simple football, and he'll be a beast doing so.
Follow Mike Pendleton on Twitter @MP2310
Facebook.com/FullScaleSports Twitter:@FullScaleSport
Photo credit: (Sun Times)