Report: Colin Kaepernick and 49ers "heating up" contract talks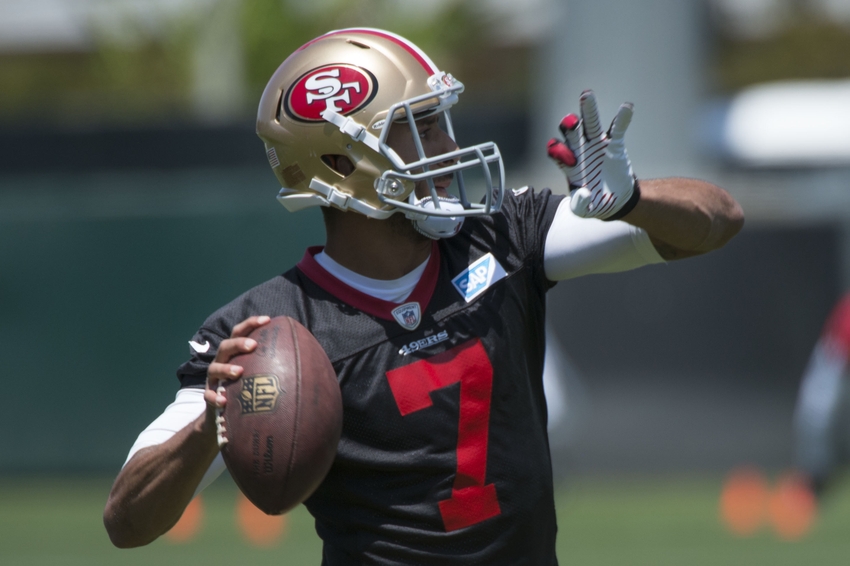 Now that the dust has settled on Colin Kaepernick's situation in Miami, in which he did nothing wrong, the two sides are reportedly ready to talk business. According to Matt Barrows of the Sacramento Bee, Kaepernick's agents and members of the 49ers front office will be meeting this week to discuss a contract extension.
The team received a $6.6 million boost on their cap, when former cornerback Carlos Rogers' salary was taken off their books, and gained an additional $2.6 million when linebacker NaVorro Bowman changed part of his salary into a signing bonus. Now that the 49ers have room, the Sacramento Bee says, this contract could be a historically big one for Kaepernick.
The 49ers also now have the salary-cap space to move forward with a contract that almost certainly will make Kaepernick the highest paid 49er and that could be one of the most lucrative in the league.
With the most recent contract extensions for quarterbacks coming in the form of $100+ million for guys like Tony Romo and Jay Cutler, Kaepernick (who has actually made it to the Super Bowl) will likely receive the same, if not a better, contract extension. The team still has to focus on other key members of their team who are looking for new contracts, which includes, a Kaepernick target, Michael Crabtree.
Back in March, 49ers head coach John Harbaugh weighed in on the Kaepernick talks and how he feels about his quarterback.
"There's really no one that competes with him in a workout situation," Harbaugh said. "He will bury everybody. And then when somebody tries to compete with him, he ramps his competitiveness up, and somebody's over their knee throwing up. He's unbelievable. So you can tell I feel he's a great player, a high priority."
One Super Bowl appearance and two straight NFC Championship games at the end of his rookie deal have to mean some type of reward for Kaepernick, and it seems the 49ers are willing to go all in on their signal-caller.
Follow Mike Pendleton on Twitter @MP2310
Facebook.com/FullScaleSports Twitter:@FullScaleSport
Photo credit: (Kyle Terada/USA Today Sports)