Kobe Bryant claims he has "shattered" Achilles Recovery Time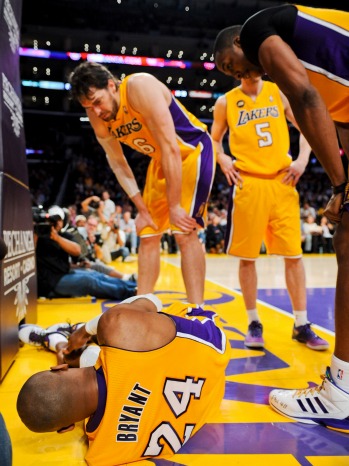 Kobe Bryant was expected to be out six to nine months after rupturing his  Achilles tendon back in April. Bryant is recovering a lot faster than expected.  Not only does he have a chance to be ready for the start of the regular season,  he could be ready by training camp. This news would be shocking if it were  anybody else, but Bryant is known for being inhuman.
Bryant spoke  with NBA.com about the recovery process.
"The surgical procedure was different […] and because of that the recovery  has been different," Bryant said in the southern city of Shenzhen. "The normal  timetable for recovery from an Achilles, we've shattered that. Three-and-a-half  months I can already walk just fine, I'm lifting weights with the Achilles just  fine and that's different. So we don't know what that timetable is going to be.  It's kind of new territory for us all."'
This is news Lakers Nation has been looking for after Howard left them in  the dust.
Follow me - @RealMarkGunnels