NHL Young Guns: Ryan Nugent-Hopkins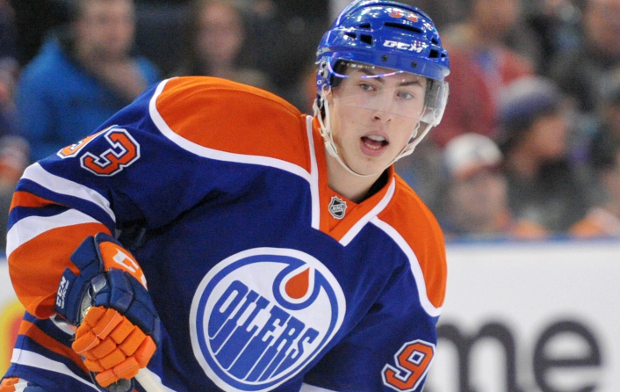 Over this hockey season myself and fellow FullScaleSports writer Bryan Luis aka Da Don (Twitter:@DaDonsVerdict) will be doing a piece on young individuals who we believe will be the next superstars in the league. He will be featuring Colorado forward Matt Duchene. For my first piece I will be selecting Edmonton Oilers center Ryan Nugent-Hopkins.
Ryan Nugent-Hopkins is a native of British Columbia, Canada. Growing up in the town of Burnaby, Nugent-Hopkins played most of his hockey for his hometown until he was drafted first overall in the 2008 Western Hockey League (WHL) draft by the Red Deer Rebels. He made his début at a very young age of 15 playing in five games scoring two goals and netting four assists. The following season he played in 67 games scoring 24 goals and 41 assists for a total of 65 points. It was clear he was ready to play in the NHL.
The 2011 NHL entry draft rankings had Nugent-Hopkins as the sixth overall player and second best WHL player. NHL scouts all agreed he had great skill and great offensive ability. On June 24, 2011 the Edmonton Oilers selected him with first overall pick and a week later agreed on a three-year entry-level contract.
In his first game with the Oilers in 2011-2012 he scored the game-tying goal in the third period. In his third career NHL game he netted his first career hat-trick .He would go on to finish the year with 18 goals and 34 assists leading him to be a candidate for the Calder Trophy (league's top rookie scorer).
Last year in the lockout shortened season he managed only four goals and 20 assists despite playing in 40 games for the Oilers. Despite the fall in production he has turned it up this year and is off to a good start. In seven games he has four goals and two assists. Where he struggles is in the +/- category as he is a -6 this year.
Nugent-Hopkins reminds me of Doug Weight, a small forward that had the knack to play really well in the offensive zone. Up to this point Nugent-Hopkins quietly has become the Oilers best player with his play and is doing better than the Oilers 2012 pick Nail Yakupov.
Look for Nugent-Hopkins to be a key player in the turnaround that's going to occur in Edmonton it may take a few years, but it wouldn't surprise too much to see the Oilers creep in the playoffs as an eight seed.
SHAUGHN BUTTS/EDMONTON JOURNAL