Sharks edge Wings 1-0 in shootout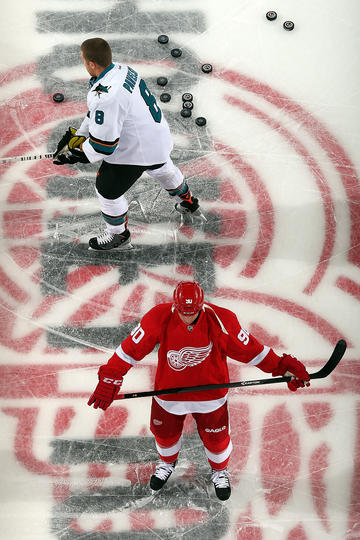 DETROIT - The Detroit Red Wings have been playing some of their best hockey as of late. Monday night it continued even though the score didn't end up in their favor they played a complete game and took the San Jose Sharks to a shootout to decide a winner. Logan Couture netted the only goal in the session as San Jose stayed perfect in regulation improving to 8-0-1 on the year. The Red Wings fall to 6-3-1 on the year.
Antti Niemi, who recorded his 24th career shutout, made 24 saves for San Jose and Jimmy Howard, who earned his 17th shutout, stopped 27 shots for the Red Wings. Detroit's Brendan Smith hit the outside of the goal post with 5 minutes left in regulation. Niemi made an outstanding save on Daniel Alfredsson's shot from the bottom of the right circle in the second period. San Jose outshot Detroit 7-4 in a scoreless opening period, in which the Red Wings killed off two penalties.
Jimmy Howard believed his team played a solid game.
"I thought we did a good job on their top guys. We didn't give them a lot of room and space. Another thing that was a positive was we didn't give up a lot of odd-man rushes," Howard said. "That's been an Achilles' heel of late for us. We did a great job of keeping the third man high in the offensive zone, making them come 200 feet. We didn't turn pucks over. It's a good sign."
The Red Wings were without their top two defenseman who are out with injury. Niklas Kronwall is still out with a concussion after receving that blow to the head from Colorado's Cody McLeod and Jonathan Ericsson hurt his shoulder late Saturday night against Phoenix, his girlfriend also gave birth so he took a leave of absence. That allowed more playing time for Danny DeKeyser, Brian Lashoff, and Brendan Smith. Xavier Ouellet made his debut on defense for the Red Wings and showed promise in the future on both sides of the puck. This young Detroit defense has matured greatly in the past six months and has the potential to be great.
Photo Credit:NHL-Getty Images