College Football Games of the Week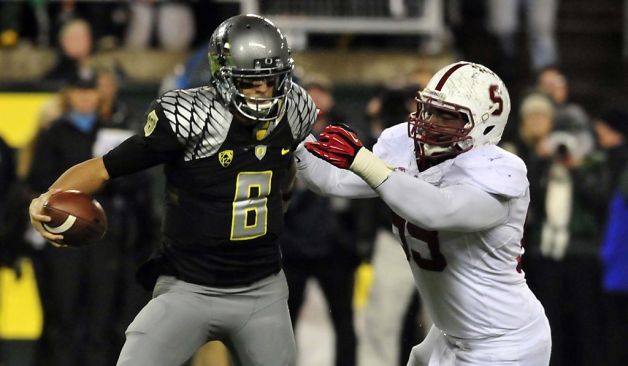 "It's Thursday night, let's get it right, I want to know you're gonna stay for the weekend" should be the slogan for all college football fans this weekend going into week 11. I'm sure that the NCAA won't be knocking on the Pet Shop Boys door any time soon, but with two games happening between top ten teams this could be the greatest Thursday night ever.
AAC- Houston @ #21 UCF
The talk of the week might be on the high-profile games in other conferences but this is the only matchup between teams undefeated in conference. The winner of this game will control their destiny to a BCS bowl birth and will be in the driver seat of the conference. Running the ball could be optional in this game as both of these teams boast big passing attacks. Houston QB John O'Korn leads the Cougars 18th ranked passing attack, while QB Blake Bortles and company from UCF have the nations' 29th best passing unit. Key here will be which defense stops the others offense. UCF boasts the 12th best passing defense in the nation and has had a stifling defense led by DB Clayton Geathers. While Houston is tied for second in the nation in interceptions, Bortles doesn't commit many turnovers, only has four on the season. The Cougars secondary also gives up a tremendous amount of yards as they are the nation in that category. This game may be a shootout, but after scoring 46 points and still losing to BYU, U of H has already proven they can lose that type of game.
Prediction: UCF 42, Houston 35
ACC- Virginia Tech @ #11 Miami
This game is all about which team can bounce back better? Virginia Tech is trying to right the ship after losing back to back games to Duke and Boston College. Coach Frank Beamer's squad started the conference season off right winning the first three games but hasn't been able to finish games as they have lost both games by a touchdown or less. Miami rode their undefeated record to a 7th ranking in the BCS. After losing to 3rd ranked Florida State, the Canes will try to get their season back on track. Miami QB Stephen Morris will be going up against the 8th best scoring defense in the nation and will try to hold the Canes under 21 points for the first time all season. Scoring is something the Hokies haven't been able to do. Va Tech's offense has scored in the teens 4 times this season and QB Logan Thomas hasn't been able to get the offense going as they are 102nd in points. If you can't score, you can't win especially against what will be a fired up Canes squad at home.
Prediction: Miami 31, Virginia Tech 17
Big 12- #10 Oklahoma @ #6 Baylor
"How many will they score this week?" has been a common question asked when it comes to these Baylor Bears. All the attention has been well deserved for the nation's #1 offense in the country as have only scored under 59 points once this year! Most teams would be looking towards possible national title berth with an undefeated record, top ranked offense and 6th ranked defense, but people question whether Baylor is really this good or just a mirage. Is it because the Big 12 is weaker this year? Is it because Baylor doesn't have the program lore of bigger schools? Possibly, but maybe it is because the Bears are yet to play a BCS team with a winning record. The toughest team that Baylor has played this year, Kansas State, took them down to the wire, and this Oklahoma team is much better. Which ever team has the better two-headed rushing attack will likely win as Sooner RBs Damien Williams and Roy Finch will be going against the Bear RBs Lache Seastrunk and Glasco Martin. With these great rushers all over the place , the most important one might be Sooner QB Blake Bell. Bell played his best game of the season last when he disposed of the Red Raiders in the air and on the ground, if he can have a similar game the Baylor defense will be in trouble. Art Briles' squad is being thrown into the fire here and until the Bears can beat a top-notch team, I will continue to feel this way about the Bears.
Prediction: Oklahoma 37, Baylor 31
Big Ten- Nebraska @ Michigan
This could end up being the most exciting game of the week as both of these teams have produced nail biters all season long. Michigan has barely escaped Notre Dame, Akron, UConn, and Indiana, while also suffering a devastating loss in overtime at Penn State. Nebraska has also had an eventful season as they started it off by almost getting upsetted by Wyoming and recently beat Northwestern on a last second heave by walk on senior Ron Kellogg. The Wolverines will need Devin Gardner to be the star quaarterback they've expected him to be, but his 11 interceptions have made him more of a dud. Nebraska's quarterback situation hasn't been much better as three different quarterbacks have attempted over 45 passes. Nebraska's running game will be key here as the Huskers 13th ranked rushing attack will be going Michigan's 11th ranked rushing defense. I'm taking Big Blue and their defense here as Nebraska is expecting Freshman Tommy Armstrong to take over for injured Taylor Martinez. Armstrong has thrown more picks than touchdowns this year, so give me Gardner in Ann Arbor.
Prediction: Michigan 31, Nebraska 23
Pac-12- #3 Oregon @ #5 Stanford
Matchup of the Week: The winner of this game has won the Pac-12 championship the past three seasons and this year looks to be no different. Heisman favorite Marcus Mariota have the Ducks with an undefeated record and looking towards a possible national title game. Oregon has the second best offense and running game in the nation while also boasted the seventh best defense in points allowed. With Oregon's new age read-option and the way they are putting up points, it's safe to say that the Ducks are rolling! The Stanford Cardinal play the exact opposite way, with a ground and pound, old-school, hard nose offense led by QB Kevin Hogan and RB Tyler Gaffney. The Cardinal just go out and win games and have defeated back to back top 25 teams behind the 19th best defense in points allowed. The only blunder on their record was a road loss to the surprising Utah Utes. Stanford still can make the national title game but they're gonna need some help as there are 5 undefeated BCS teams in the nation, but Stanford is the highest ranked one-loss team. This game is always a good game and is starting to become one of the biggest rivalry games in college football. I love the physicality and bruising way that Stanford plays. I wish there were more teams that played like them, unfortunately these Ducks may be the best roster Oregon has ever had. With the return of do everything back DeAnthony Thomas, the Ducks have even more firepower. I'm taking Nike University on Thursday Night!
Prediction: Oregon 34, Stanford 30
SEC- #13 LSU @ #1 Alabama
Alabama just keeps on winning and winning, but this will be the biggest obstacle the Tide have faced since playing Texas A&M. This series has had classics in recent years and this game should be no different. AJ McCarron has been doing a great job of game managing the team with arguably the most talent in college football. DB Ha Ha Clinton-Dix, DB Vinnie Sunseri, LB C.J. Mosley, and RB T.J. Yeldon are just some of the big talent that Nick Saban has assembled. As great of a team Alabama is, LSU has the ability to beat them. Zach Mettenberger has had a stellar year for the Tigers as he is leading the nation's 22nd best offense and has actually thrown for more yards and touchdowns than his counterpart from Alabama. Year in, year out, the game is decided by who has the better defense and this will probably end up being the same way. Alabama leads the nation in points against while LSU is 31st in that stat. So with that being said, I'm going with the home team.
Prediction: Alabama 27, LSU 17
Non-BCS- Troy @ Lousiana-Lafeyette
Thursday night just keeps getting better as these Sun Belt opponents match up for what should be a good one. The Ragin Cajuns boast the conference's top rushing attack behind RB Alonzo Harris. ULL is also in the nation's top 25 in points per game and this offense has carried the Cajuns to an undefeated record in conference and atop the conference. Troy is trying to ruin the run that ULL has had, and will do it behind the conference's best passing game. Senior QB Corey Robinson has thrown for over 2500 yards already and slings the ball around to over 10 receivers. The Cajuns will be at home and that will be the difference as I expect Louisiana-Lafayette to slow the game down and take the ball out of Robinson's hands.
Prediction: Lousiana-Lafayette 38, Troy 30
Season Record: 5-2
(Photo Credit: sfgate.com)
Follow Albert Nkansah on Twitter @AlbertN_5
Facebook.com/FullScaleSports Twitter:@FullScaleSport