Boomer Esiason on Warren Sapp: "He's An Embarrassment To Anyone Who's Played The Game"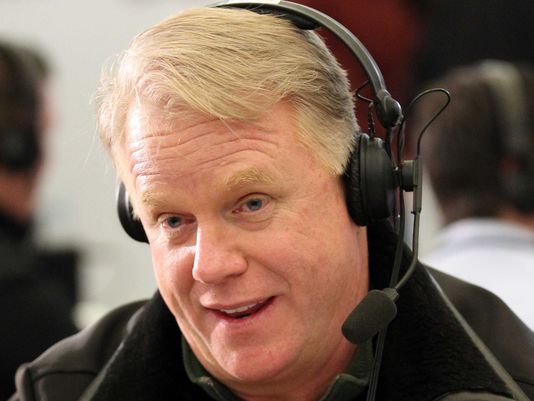 Warren Sapp made headlines yesterday when he said that former New York Giant great, Michael Strahan, does not deserve to be a Hall Of Famer. Talking on NFL Network Tuesday, Sapp compared Strahan's career to the other HOF finalists:
"I don't think his resume stacks up when you put Tony Dungy, Walter Jones, Marvin Harrison and Derrick Brooks up, those are four first-ballot Hall of Famers."

"When you stack it up, and he only has four straight Pro Bowls and a mythical sack record that y'all still walk around like it's something to be praised, I mean y'all have got to get off your high horse in New York and speak about the real. And when you really measure him up, he comes up short. When you talk about stacking it up it just don't stack that high, except y'all are giving to him. Y'all don't take that same critical eye as when you're looking at somebody else. Oh, it's Michael, aww, he's our guy, he's on TV with Kelly Ripa and oh, he's such a good guy!"

I thought you got into the Hall because your resume stacked up with the echoes of the game, not just the good, the great. And four straight Pro Bowls is good, but it ain't great and we're talking about the Hall, right?"
Shots fired and heard Mr. Sapp, but Strahan responded in a much softer tone.
"Football was part of my life, but it is not my entire life," the seven-time Pro Bowler said Tuesday. "So for some guys, maybe that's their entire life and that's all they have to hold on to. Playing football, sacking quarterbacks, that was part of my life, and I did it and I moved on. The tiger does not pay attention to the opinion of the sheep"
So there's the story everyone's talking about, and now there's this. On Wednesday morning during the Boomer and Carton show on WFAN, Boomer Esiason ripped into Warren Sapp, and did not hold back while doing so. Esiason has had his run ins with Sapp in the past, and while he did acknowledge that Sapp was a great player, he didn't have many great things to say about Sapp as a person and personality.
"He doesn't realize when he's insulting people, he's insulted me. He's insulted Michael Strahan now, he's insulted other players, and he never ever looks in the mirror to realize what his words and how he delivers his words and the weight that they carry and the sting that comes along with them."

"Quite frankly, I think he's an embarrassment. He's an embarrassment to anybody who's ever played the game of football, because he feels like he's on an island somewhere by himself. And his unprovoked attack on Michael Strahan is ridiculous."
It seems as if Sapp's comments weren't just heard by Strahan but they irked other players like Esiason who clearly aren't fan of Sapp off the field.
Listen to Esiason on Sapp: Audio courtesy of WFAN and CBS Radio
Follow Mike Pendleton on Twitter @MP2310
Facebook.com/FullScaleSports Twitter:@FullScaleSport