St. Louis Rams Look to Be on the Doorstep for 2014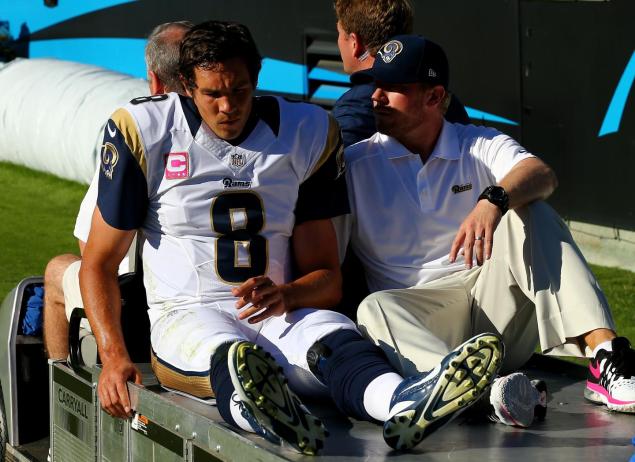 The Rams made a lot of noise in the 2013 offseason. They may have lost WR Danny Amendola but they signed LT Jake Long, TE Jared Cook and had an impressive draft from the looks of the NFL Draft experts. They traded up to get WVU WR Tavon Austin and drafted LB Alec Ogeltree. Overall Jeff Fisher looked to have assembled a team of young talent, all he needed to do was get them on track.
Everything looked steady up until the season-ending injury to QB Sam Bradford, Bradford looked efficient and looked to take a leadership role on the field. But another injury sets the former Heisman winner back into a contract year in 2014 with a division that had three teams that won 10 games in 2013.
St. Louis couldn't get Kellen Clemens to consistently win games and ultimately are out of the playoffs again. The defense struggled particularly at the S position. Passing on Kenny Vacarro had its consequences particularly when Austin struggled early in the season. But by the end Austin looked to be a part of the success of the offense.
A surprise was from former Vanderbilt RB Zac Stacy he showed that he's capable of playing on the NFL level and playing well. Daryl Richardson couldn't quite succeed in replacing Steven Jackson who had been a part of the team for nine years.
Heading into this offseason it is clear that three questions have to be answered. One, is Sam Bradford the QB of the future? Is there a legit threat at WR? Is the NFC West going to have a drop off?
Ultimately Sam Bradford is a very talented QB, the numbers would prove that but in-game action something is blatantly obvious, that's the fact that he doesn't handle blitzes and pressure well at all. He didn't seem to have control of the team and didn't seem to have trust in his targets.This is something that we realize in film, obviously he has some rehab to do with the ACL tear, but he needs to develop chemistry with Austin, Quick, and Cook in particular they are capable of helping this team. He threw the ball well, he has the arm that's not my doubt, I want to see him lead.
Next is the WR position which I addressed in the last question to an extent. WR is not a weak position it's a position that isn't fully utilized. Chris Givens is a deep threat and has proven that, Austin is a mix between Dexter McCluster and Percy Harvin, but what needs to happen is the emergence of Brian Quick, a former 2nd round pick. I see him as a better player than Austin Pettis, and is a bit more versatile. If Quick can become a solid target with Jared Cook and Lance Kendricks at TE, the offense will be fine.
Lastly the NFC West it's the toughest division, you have the two best teams in the NFC (San Fran and Seattle), the last two NFC champs. Arizona bounced back with a 10-6 season with the arrival of Bruce Arians. Ultimately, Jeff Fisher has a challenge on his hands, his team is on the cusp of the break-through but the division they're in can prevent them from making the playoffs.
The Rams are selecting #2 from the Washington Redskins in the Robert Griffin III trade during the 2012 NFL Draft. At #2 I have them selecting OT Jake Matthews from Texas A&M, they can use some OL help and Fisher knows all about the Matthews family. At #13 I have them selecting S Ha-Ha Clinton-Dix from Alabama, and safety is the biggest need on this football team. The offseason should be an interesting one in St. Louis.
Photo Courtesy: NY Daily News/Streeter Lecka/Getty Images
Follow me on Twitter @DaDonsVerdict
email me: [email protected]