Player Profiles: Meet DeShaun Thomas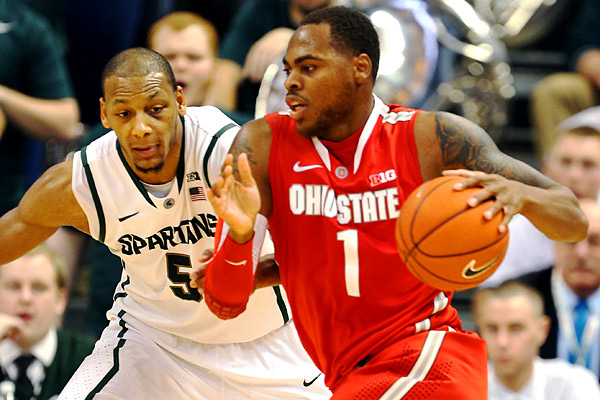 DeShaun Thomas is one of the most intriguing prospects in this years NBA Draft.  At 6'7 Thomas has proven that no matter how tall you are, if you can score there will be a place for you.
Thomas during his high school days attended Bishop Luers high school, which is located in Fort Wayne, Indiana.  As a Freshmen Thomas had already proven he was a pure scorer.  He finished the season averaging 28.9 points per game he finished second behind Eric Gordon (Hornets) who would go on to win the state scoring title by .1.
As a freshmen Thomas also orally committed to Thad Matta, and the Ohio State University.  However Thomas did not officially sign his letter of intent, until later on in his high school career.
Going into his Sophomore season that is when Thomas's career really started to take control of high school basketball in Indiana.  Before Thomas attended school the Knights had never won a Summit Athletic Conference Holiday Tournament, however Thomas led the knights to a 3-peat between his sophomore and senior season in that exact tournament.
Also as a sophomore he helped lead the Knights to the Class 2A Indiana State Championship.  He would also lead the Knights back to the Class 2A championship as a junior as well.  During his Junior season during the championship game, Thomas dropped 34 points and grabbed 15 rebounds.  Those two specific stats rank second all time in Class 2A Indiana State Championship history.
As a senior Thomas received many accolades.  He was named to the Mcdonald's All American Team, and was also named to the 2010 Jordan Brand Classic roster.  He was named Mr. Basketball and was also named to the Parade All-American 1st team.  He would leave Bishop Luers, ranked the 3rd all time scorer in Indiana Boys basketball history totaling 3,018 points.
Thomas also won the scoring title as a junior with 30.8 points per game and as a senior with 31.8 points per game.
Thomas's #1 high school jersey was also retired by the school, which is the first time in any sport that Bishop Luers has done that.  Thomas was a top 20 recruit and ranked by many #1 in his position.
It was now time for Thomas to take his talents to Columbus, and put on an Ohio State uniform.
As a freshmen Thomas showed that he had the potential, to make an impact immediately.
Playing behind Jared Sullinger (Celtics) Thomas became a key player off the bench.  For example in his first career college game Thomas led the Buckeyes in scoring off the bench.  Thomas dropped 24 points and snatched down 8 rebounds in an impressive 102-61 win over North Carolina A&T.
Thomas's impressive freshmen season also included being named the Big Ten Freshmen of the week in late November.  Also Thomas had a couple more impressive performances, including a 22 point performance coming in a late season match-up with Indiana.  In that victory over the Hoosiers, Thomas scored 14 of his 22 points in the first half when the Buckeyes went on a 14-3 run.
Thomas would finish his freshmen season averaging 7.5 points per game, going a long with 3.5 rebounds per game.  The Buckeyes finished 34-3 and 16-2 in conference.  The Buckeyes would go on to lose to Kentucky in the Sweet 16.
With the departure of many players from the previous season, Thomas saw a huge increase in playing time.
Thomas became an everyday type of player he averaged 31.4 minutes per game and finished his sophomore season with 15.9 points per game, and 5.4 rebounds per game.  In Mid-December Thomas was named Big Ten Player of the week, after pulling off some huge performances.  Some of these performances included a 23 point effort and then a 30 point effort, both coming in winning fashion over South Carolina Upstate at home, and away at South Carolina.
Thomas recorded a total of three double-doubles  as a sophomore.  Including a double-double in a 2nd round NCAA Tournament win over Loyola (MD), when he scored 31 points and grabbed 12 rebounds.  Thomas also improved his shooting % from 48% as a Freshmen to 52% as a Sophomore.  Thomas would also go on to be selected by the media as a member of the Third Team All Big-Ten, and by the Coaches as a member of the Second Team All Big-Ten.
Ohio State would finish the season with a record of 31-8 and 13-5 in conference play.  The Buckeyes would advance to the Final Four before being eliminated by Kansas, with a score of 64-62.
As a Junior it was now Thomas's time to shine. Before the season began ESPN, Sporting News, and the Associated Press selected Thomas as a Pre-Season All-American Candidate. During the season Thomas did not disappoint, he finished the season averaging 19.8 points per game, and 5.9 rebounds per game.  He also averaged 35.4 minutes per game, and led the Big Ten in scoring, and in free throw % shooting 83%.
Thomas helped lead the Buckeyes to a record of 29-7 and a conference record of 13-5. Thomas also led the Buckeyes to the Big Ten Conference Tournament Championship. The Buckeyes were selected as a #2 seed in the NCAA Tournament, and advanced all the way to the Elite Eight.  However the Buckeyes were eliminated by Wichita State, with a score of 70-66.
With the season coming to an end the Associated Press had Thomas as an All American Third Team Selection, however Sporting News had Thomas as a Second Team Selection.  Thomas was also a First Team All Big-Ten Selection by both the Media & Coaches.
DeShaun Thomas with the season over decided to forgo his senior season and enter the NBA Draft.
At the Draft Combine in Chicago, Thomas measured well with a 6'10 wingspan, 9.1 % body fat, and height of  6'7 with shoes on.  His Max Vertical was tested at 32″ he also clocked in at 12.94 in the lane agility tests, and 3.53 seconds in the Sprints test.
Thomas has already proven he can score, he has a terrific attitude and also has proven that he can be a key piece for any team.  Thomas is a motivational guy he has a strong faith in his Religion and really goes out of his way to enhance his game to the next level.
Although many may question Thomas's decisions, for example when he declined to give the San Antonio Spurs his phone number.  However many forget to remember that he did give them his e-mail and basically said he keeps his circle small, and can't just give his number out to anyone.  It shows his character and that he truly cares about not only his well being but the people around him.
Once again although many pick Thomas to be a second rounder, I believe Thomas has the ability, to be a first rounder.
Best of luck to DeShaun Thomas as he chases his dreams of being in the NBA.
Derek Spallone
Staff Writer
Follow Me On Twitter @sportsbloggerDS
Facebook.com/FullScaleSports
Twitter: @FullScaleSport