JJP's Beating The Spread - NFL WK5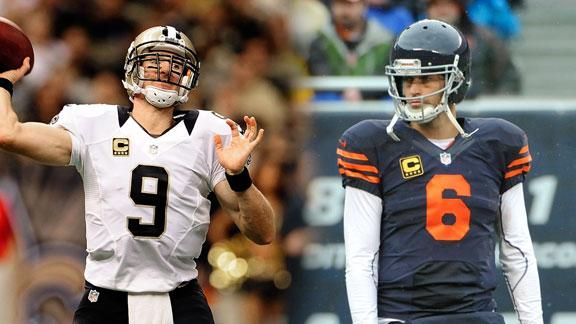 Your Week 5 Guide to Beating the Spread.
I'm not a professional and I don't claim to be.  Fact is, I'll never put in the time and effort to try and make a career out of professional gambling.  I do however, play the books often enough to know a few things about the "hobby".  Whether it be in Vegas or online books, I've wagered money on professional sports for about 12 years.  Through the years I've learned 3 important things.  1) NEVER bet with your heart 2) NEVER bet more than you can afford and 3) NEVER chase the dollars you have lost.  With these things in mind, let's dig into this weeks best match ups to play from my perspective.
*Lines may differ at time of bet and by book
Last week - 1-2
YTD - 1-2
New Orleans Saints at Chicago Bears

10/6 1:00pm ET
Spread: Saints -1
The Bears struggled against the Lions potent offense last Sunday, so what draws me to believe they can stop the Saints?  The fact that the game is in Chicago is a start.  The Saints have shown that they are likely to struggle on the road, especially on natural field as opposed to the synthetics and turf.   The Bucs played the Saints well in a match up earlier this season and I have faith that the Bears offense can rectify their bad tendencies and produce points.
JJP's Pick - Bears +1
Carolina Panthers at Arizona Cardinals

10/6 4:05pm ET
Spread: Panthers -2
Lines makers probably put this line to maximize the public's tendencies to bet A) for a team that won in impressive fashion and B) against a team that barely won against a poor performer.  Good policy, the public is easily duped by it and the books rank in plenty money to cover the losses while still packing in a profit.  The Panthers haven't been a great team off a bye, more so Cam Newton than the team in general.  The last time the Cardinals were at home?  They went out and beat the Lions.  The Cardinals get a LB back from suspension and have the benefit of a healthier Larry Fitzgerald.  I'll take the home dog.
JJP's Pick - Cards +2
Jacksonville Jaguars at St. Louis Rams

10/6 1:00pm EST
Spread: Rams -11.5
Don't go chasing waterfalls and don't bet against streaks.  I won't chase waterfalls, but I am betting against the Jaguars terrible streak.  You can't really believe the Rams are going to all of a sudden be a high-flying offense that will cover a close to 2 TD spread, can you?  The Rams defense has not been what they were advertised to be, the offense has yet to figure out exactly how to use Tavon Austin and the O-Line looks like they are blocking on a water bed.  The Jags are obviously a huge joke at this point, but getting Justin Blackmon back helps.  I don't see this game as a high scoring affair, so the under can be in play, but that also means the percentages of a team winning by 12 is low.
JJP's Pick - Jags +11.5

Send your fantasy football questions to [email protected]
Follow Joshua Perry on Twitter @JoshuaPerry84
Facebook.com/FullScaleSports Twitter:@FullScaleSport
(Photo Credit: ESPN)