Da Don's Verdict: Now That Josh Freeman is Gone, We Can All Blame Head Coach Greg Schiano For Troubles in Tampa Bay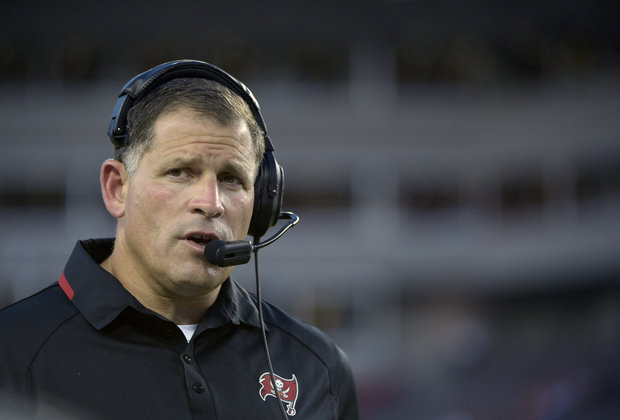 The Tampa Bay Buccaneers released QB Josh Freeman yesterday in a move that surprised no one, but I'm surprised at why HC Greg Schiano seems to be getting a pass in all this. What has he done to earn any respect from his players, his fellow coaching peers and most of all, the NFL fans? Let me tell you about his resume a bit.
Greg Schiano is most notably known for putting Rutgers football back on the map and into relevance for the first time in what seemed like forever. He started out there as a graduate assistant in 1989 before heading to Penn State to assume the same position. He got a promotion in 1991 to become the defensive backs coach thru the 1995 championship season for Penn State.
From there he made a jump to the NFL to work for the Chicago Bears as a defensive assistant and defensive backs coach thru the 1998 season. After 1998, he went back to college to become the defensive coordinator under then head coach Dennis Erickson. In 2001, he then became the Head Coach of the University of Rutgers and he slowly rebuilt that program to prominence including a Big East title which is their only one in the Big East.
When Schiano was hired by Tampa last offseason, I thought Schiano would be a guy who could light a fire to a franchise that had lost an edge about them since the Dungy era and the early years of Gruden. Last season there were signs of improvement, signing WR Vincent Jackson, OG Carl Nicks and also drafting RB Doug Martin, though the defense struggled over the course of the season but they were a young group that was learning to play with each other.
Now fast forward to the trade deadline when they made a dumb move by essentially giving away a top 10 NFL corner for a 4th round pick, yes I'm talking about Aqib Talib who was an instant difference maker for the New England Patriots, and is now a man on a mission to prove he's a top CB in the NFL. No doubt it was a dumb move but it was to a guy of whom he's worked with in the past but also weird that Belichick has former Rutgers players like Logan Ryan, Devin McCourty and Duron Harmon just to name a few.
Schiano is very comparable to how Josh McDaniels stint in Denver went, started off strong and then faltered because McDaniels was trying to do way too much. I can say the same for Schiano. As a college coach, you have to be a great recruiter and a great coach, well in the NFL you need to be particularly good with the X's and O's and deal with the talent you have.
The offense he has in Tampa Bay should be up there with New Orleans, Denver, Green Bay and Atlanta at the top of the league but with no confidence in Josh Freeman, Schiano decides to put him in tough situations, the perfect case is the New Orleans game. They had a lead and they decide to force feed Doug Martin and of course they lose.
Now they're 0-4 with a bye week, in my opinion it's time to fire Greg Schiano. What are they waiting for? This guy has lost 9 of his last 12 games as a HC for your team and there's no signs of improvement, the players are voicing their concerns (Revis, Jackson etc.) and most of all they don't have the belief in their coach and starting a rookie QB, who I project to be another John Skelton or a less accurate Carson Palmer isn't going to get you to succeed.
I have no vendetta against Schiano, but I don't like what he did to Freeman, it's the same thing the Titans did with Vince Young, both had skills and were handed the torch at 20 years old, both are free agents at 25, why? Because every single fan and coach expects their QB to be Tom Brady, Aaron Rodgers or Peyton Manning, and when that isn't the case people like Heath Evans and Trent Dilfer throw the term "game manager" next to their name. It's a petrifying truth that the NFL has become.
Nevertheless, the clock is ticking for Schiano because there is no chance that he will be in the NFL next year if he continues this "wannabe" Bill Belichick persona, it failed in Denver and it's failing in Tampa. Unless Mike Glennon plays like he did vs. Florida St last season I say they're in the running for Teddy Bridgewater from Louisville in the draft. If Schiano is still the coach Tampa fans better hope that Bridgewater doesn't pull an Eli Manning, cause I wouldn't want to play for a coach who's a shell of his idol that's for sure.
Da Don's Verdict is harsh, but in a business that winning is the only thing, it's not hard to determine what his fate should be.