Rutgers' Eric LeGrand moves home, continues to inspire after injury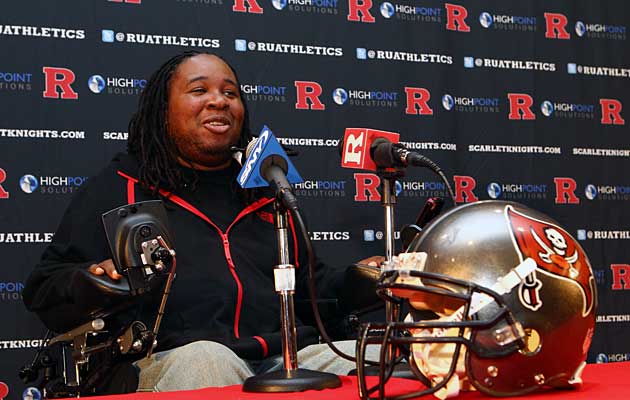 With all the negative press recently involving Rutgers University and newly hired Athletic Director Julie Hermann, I felt compelled to highlight a story that may not have been given the attention it deserved in light of the scandal.
Former Rutgers' football player Eric LeGrand finally returned to his New Jersey home, almost three years after an injury sustained during a game versus Army left him paralyzed from the neck down.
LeGrand, who since the injury has become an inspirational public figure, has made appearances on TV and radio shows, has been honored with the Valvano award at the ESPY's, and has even signed a book deal with HarperCollins Publishing.
He was also named an honorary member of the Tampa Bay Buccaneers when former Rutgers' head coach Greg Schiano became the head coach down in Tampa Bay. Earlier this month, LeGrand accepted a job offer as a sportscaster for the team.
However, until Friday, May 17, 2013, he had not been able to return to his home in Avenel, NJ.
His house has been equipped with technology that allows LeGrand to maneuver his wheelchair around with little assistance, thanks mainly to funding from the Believe Foundation, which was set up by Rutgers to aid LeGrand and his family after his injury.
According to an article in the Star Ledger, LeGrand will now be able to use an elevator to move from floor to floor and can use his tongue to select which door he wants to open from a list on his wheelchair computer.
The independence LeGrand has gained is not only a moment of happiness for himself, as well as his friends and family, who have watched him struggle and rely on others for almost everything since the injury, but motivational to others.
LeGrand's determination and perseverance has also served as inspiration to many.
Even in early 2011, only a few months after his injury, LeGrand had told ESPN he believed he would one day walk again. "God has a plan for me, and I know it's not to be sitting here all the time. I know he has something planned bigger for me," he said in the interview.
Since then, various reports have stated that LeGrand has regained some sensation and has, more recently, been able to make his hands twitch with the slightest of movements. He can also now sit upright for 15 minutes.
He is able to talk, and was recently heard as the Rutgers Football Radio Network announcer of the Rutgers' spring football game.
These seemingly tiny acts exemplify huge amounts of progress for someone with his type of injury, and who many said would need to be hooked up to a ventilator for the rest of his life.
Arguably the most uplifting part of his story has been LeGrand's outlook on his life since the injury. He has shown fans and other on-lookers that his injury has not changed who he is as a person.
In fact, he makes the most of what has happened to him by spreading awareness about spinal cord injuries, through organizations like A Walk to Believe. He has shared his story with the public in a way that has inspired thousands, myself included.
According to AOL's SportingNews LeGrand is well aware of the ability he has to reach other people. "I'm able to touch so many people. How can I get down?" he said.
Note: A Walk to Believe is an all-volunteer nonprofit organization to create awareness and to raise funds for people suffering from spinal cord injuries.
The third annual 5K A Walk To Believe will be held on Saturday, June 15, 2013 at the High Point Solutions Stadium on Rutgers Busch Campus, located at 1 Scarlet Knights Way in Piscataway, NJ. 
Follow Alexis Celluro on Twitter. (@lexirosec)
Follow FullScaleSports on Twitter and like our Facebook page! (@FullScaleSport) 
https://www.facebook.com/FullScaleSports?fref=ts