2013 NBA Draft: Don't Sleep On Vander Blue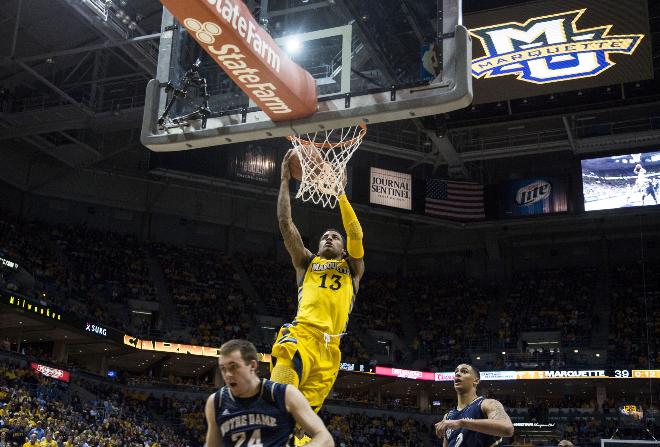 Vander Blue a 6'4 Guard who left Marquette after his Junior season, is a player to watch out for.Vander who is a home town guy out of Madison, Wisconsin attended Madison Memorial High School.   Some of his accomplishments before attending Marquette include:
. 24th Ranked Prospect in 2010.
. Overall high school career record of 72-9.
. Finished his high school career with a total of 1,269 points which is third all time in Madison Memorial High School History.
.  Finished Second in school history in Assists with 211, and first in steals with 179.
. State Championship
Vander was also a member of the  2010 USA U-18 National Team that went 5-0 and took home a gold medal.
The reason I begin with outlining his outstanding high school/Pre-College career is because it shows he is a born winner. It also shows how that winning attitude carried over to Marquette, and their overall success.
During his freshmen season at Marquette Vander averaged 5.1 points per game, and shot 39% from the field.  The following season as a Sophomore Vander's minutes went up and with that so did his points per game.  He averaged 8.4 points per game, and boosted his field goal percentage to 41%.
Going into his Junior season is really when Vander jumped on to the scene. Averaging 14.8 points per game, and shooting 45% from the field, Vander led Marquette (as a #3 seed) all the way to the Elite Eight.  However the Golden Eagles were eliminated by Syracuse who would go on to lose to Michigan in the Final Four.
Despite the loss the Tournament really helped expose Vander's talent to the basketball world.  To begin the NCAA Tournament Vander hit a game winner against Davidson, then he followed that up with an impressive 29 point performance against Butler, then he pulled off a spectacular shooting night to get past Miami who was a #2 seed.
Following the NCAA Tournament Vander waited until the last day, to make his NBA Draft Entry decision.  In an article with the Chicago Tribune earlier this month he stated, "At first I really wasn't thinking of leaving at all until after I played in the tournament," followed up by stating "I knew I was ready. Nothing was really telling me to stay in school. I felt like it was my time and I wanted to strike when I was hot."
However Vander truly did make the correct decision and will be an excellent fit for many NBA Teams, and let me tell you why.  One he is a proven winner, he has proven that on every level AAU, Team USA, High School, and most recently college.  That success and winning "Swagger" that Vander has will carry over into the NBA, I can assure you of that.
Followed up by his Defense, he really flourished well under Buzz Williams at Marquette.  Vander is Quick and aggressive and a very good perimeter defender.  He has that unique ability to make a defender feel uncomfortable, and keeps the offense on their toes.
In Chicago Vander tested well at the combine.  Vander had a max vertical of 37.5 inches, followed up by a lane agility test score of 10.40, and clocked in with a time of 3.14 during the 3/4 court sprint.  Vander's athleticism is very impressive and he uses his 6'6″ wingspan well, and can get up and throw it down with power.
In my opinion Vander has all the tools to be a terrific 2 guard in the NBA.  Once he perfects his jump shot, which I am sure he is doing while you read this, he will be a defenders nightmare.
Look out for Vander he will be a sleeper of this draft, and a player who will have a long professional career.  Don't be surprised to see his name come up in a big moment in the coming years.
Derek Spallone
Staff Writer
Follow Me On Twitter @sportsbloggerDS
Facebook.com/FullScaleSports
Twitter: @FullScaleSport
Edited By: Bryan Luis