Ducks rolling; edge Calgary 3-2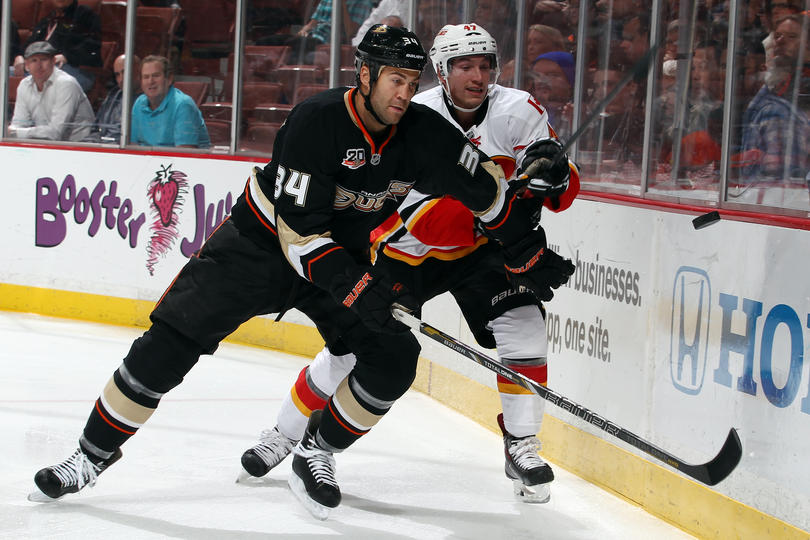 ANAHEIM — The Anaheim Ducks are on fire and continued their winning ways Wednesday night against the Calgary Flames as they extended their winning streak to five games with a 3-2 victory. Teemu Selanne netted the game winning goal as well as his 676th of his career and goaltender Viktor Fasth made 33 saves to secure the win.
Selanne scored the game-winner as he received a new stick from the bench took a pass from teammate Jakob Silfverberg and beat Flames goaltender Joey MacDonald five-hole. Anaheim is now off to its best start in six games winning five out of six for the first time in franchise history.
"Sometimes you got to be lucky," Selanne said. "But to be honest, that was not a very good hockey game from us. It was good that we won. A lot of times, like last year, we won the games when we didn't play really well. But, we just found a way to win again. That's a good thing. But it was not pretty out there, especially the third period. Viktor [Fasth] stole the points for us."
Fasth stood on his head most of the game and had over come a shaky first period to earn the win. In the third he faced plenty of shots and held his ground as the Ducks were outshot 17-4 in the last period. The Flames haven't won a game in Anaheim in nearly 8 years their last win was in January of 2004. Jiri Hudler scored for the Flames to cut the lead to 3-2, but that is as close as they would get.
"I was little shaky in the first 20 [minutes], I think," Fasth said. "It was hard to read bounces. But I felt better the longer the game went and the guys really helped out out there today. It was really good to get that win."
Calgary overall played a great game but couldn't overcome mistakes early on that cost them the game.
"We gave up two goals that we didn't have to," Flames forward Mikael Backlund said. "We have to remember our mistakes and look at the video to see else. I thought we worked hard, but came out a little sleepy, some of us. We have to get better and be ready to go right away because San Jose is coming hard just like Anaheim here."
Selanne now is one goal behind Brendan Shannahan for fifth all-time in game winning goals.
Photo Credit: NHL-Getty Images