Baylor Proves They Are For Real, Defeats Oklahoma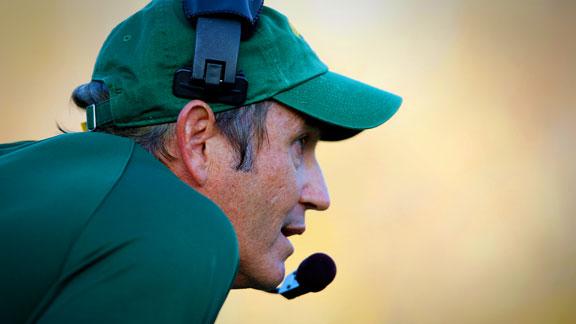 Waco, TX- The Baylor Bears are 8-0. As crazy as that sentence sounds, it is true. This upstart Baylor team continued their winning ways at home against 10th ranked Oklahoma. RBs Lache Seastrunk and Glasco Martin both went down in the first half with injuries and the rushing attack didn't skip a beat. Third string RB Shock Linwood made the most of his opportunity by rushing for 182 yards while QB Bryce Petty tossed and ran for five touchdwons.
The game didn't begin the way the Bears wanted at first, after Petty gave up a safety and the Bears were down 5-3 midway through the second quarter. This is when Petty and the Bears began to pour it on scoring three touchdowns before halftime. Baylor didn't let up in the second half as they continue to outscore Oklahoma 17-7.
"We made some plays in the second quarter that helped us seperate" - Art Briles
The Story of this game was the Baylor defense. DB Ahmad Dixon anchored this defense which held the Sooners to 150 yards passing and 87 yards rushing. DB K.J. Morton laid a devastating hit on Sterling Shepard, and that intensity was shown throughout the game. The Bears were able to fluster Blake Bell all night and forced him to throw two interceptions. This win firmly keeps Baylor as the favorite to win the Big 12 this year while the loss for Oklahoma is a devastating blow to the Sooner title hopes.
(Photo Credit: espn.com)
Follow Albert Nkansah on Twitter @AlbertN_5
Facebook.com/FullScaleSports Twitter:@FullScaleSport