Vikings defeat Redskins behind AP's two scores; Ponder injured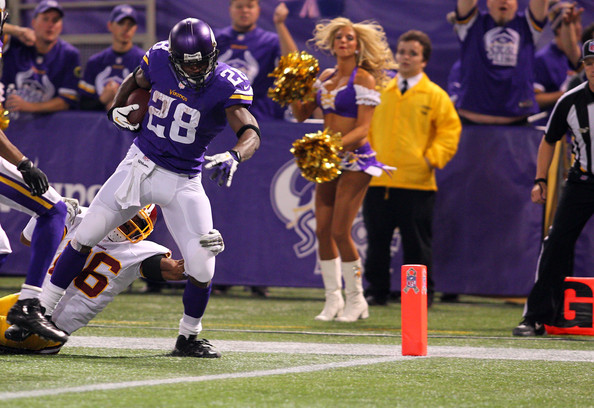 MINNEAPOLIS- With their 34-27 victory, the Minnesota Vikings won their first game in the United States on the 2013 NFL season.
Adrian Peterson wasn't running  for yards in this game, but his two touchdowns were key, as the reigning MVP led a second-half comeback over the Washington Redskins. Peterson totaled 75 yards with the two scores on 20 carries, as the Vikings improve to 2-7 on the season.
Not all was positive for Minnesota as quarterback Christian Ponder left the game in the fourth quarter. Head coach Leslie Frazier said Ponder suffered a dislocated left shoulder, and more tests were set for Friday. In place of Ponder, it was Matt Cassel, not Josh Freeman who the Vikings signed to a $3 million contract in-season. Cassel went 4-6 for 47 yards in relief of Ponder, but was more asked to let Peterson ride the game out.
Robert Griffin III looked strong in the first half of the game, throwing three touchdowns to three different receivers. The second half was nearly non-existent for Griffin as there were no touchdowns thrown. Griffin finished 24-37 for 281 yards, and the three scores with no interceptions thrown. While Griffin did not commit a turnover, the Vikings got four sacks, including 2.5 by defensive tackle Kevin Williams.
Running back Alfred Morris had his second consecutive 100-yard rushing game, with 139 on the night, with no touchdowns. There was hope for a late fourth-quarter tie, but Griffin and the Redskins were stopped on a goal-to-go distance, including a questionable no call of pass interference on tight end Jordan Reed, and an incomplete fade pass to Santana Moss, the team's final offensive play of the game.
There has been no indication on whether it would be Josh Freeman or Matt Cassel to replace Christian Ponder for the Vikings' starting quarterback, or the severity of his injury.
The Redskins fall to 3-6 on the season, while the Vikings improved to 2-7.
Follow Mike Pendleton on Twitter @MP2310
Facebook.com/FullScaleSports Twitter:@FullScaleSport
Photo credit: (Adam Bettcher/Getty Images)