Nations Top Recruit Chooses Nations Top Program.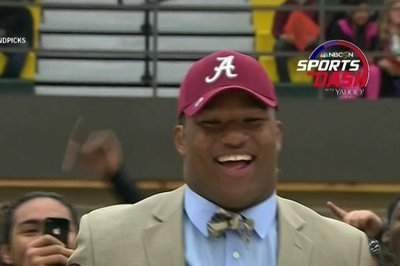 Fans and coaching staffs from Alabama, Michigan and Florida will waited in great anticipation Thursday for Woodbridge senior defensive lineman Da'Shawn Hand to declare what college he plans to attend. Hand, considered by Rivals.com to be the No. 1 football recruit in the country, had a big time decision to make. While not set in stone until he puts pen to paper on signing day in February, his decision makes things easier on a young teen superstar in his senior year of high school.
Hand had been thought of as a Michigan lean since March, and he made his official visit to Ann Arbor in September, watching the Wolverines dispatch Notre Dame. But Hand had an excellent visit to Alabama in October, and the sight of Florida fans chanting for their coach to be fired during his UF visit in November couldn't have helped the Gators' chances. Hand ultimately chose Alabama because of its academics, its championship tradition, and its success in churning out pro prospects. "Why not go where there is a great chance to win a national championship," Hand asked rhetorically.
In light of that quote, perhaps it's worth noting Michigan has slipped well out of the top 25 this year while Florida needs a miracle to become bowl eligible. Hand also said that he wants to challenge himself by majoring in civil engineering. He knows that he will not be tops on the depth chart, and will have to work hard for playing time. Before making his decision, Hand talked about being a nerd, meeting an impactful professor from Michigan, and seeing the earthquake simulator at Alabama, as well a hurricane simulator at Florida
. Alabama is considered the favorite to land the No. 1 overall recruiting class once again, as it has done for most of Nick Saban's time in Tuscaloosa.