Philadelphia Eagles: Nick Foles gives Philly the best chance to win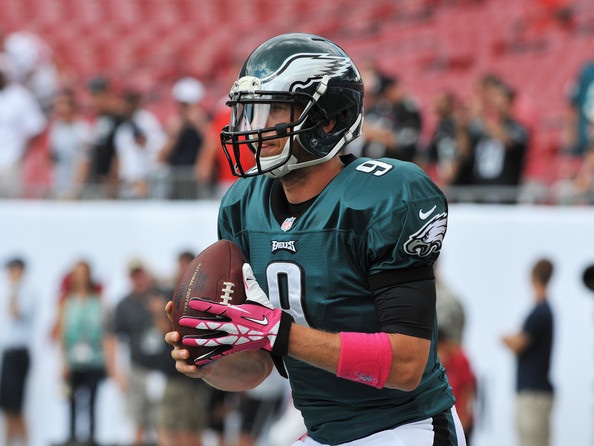 Chip Kelly and the Philadelphia Eagles are a faced with a situation that most head coaches hate to be faced with, a quarterback controversy. Who does Chip Kelly start next week is the biggest question surrounding the NFL going into week 7. It goes without saying this has been the case for the past two years in Philly with starter Michael Vick underachieving and being sidelined by injuries, it doesn't help Vick's cause that backup Nick Foles has shown flashes of great quarterback play in his absence and with Foles putting up big numbers against Tampa Bay last week the country wants to know will it be Foles or Vick? Personally I believe Foles gives the Eagles the best chance to be successful this season and I'll tell you why.
First off let's get rid of the notion that you have to be mobile to run Chip Kelly's high octane offense, because you don't. What you have to be is efficient with the football and quick with your reads and Nick Foles is both of those things. I understand Vick gives you the element of running which always helps but with Foles you don't have to worry about the turnovers as much. In the past two games Foles has completed 67% of his passes for 493 yards and added 5 touchdowns with no turnovers. A completion percentage of 67% should be enough to win Foles this job going forward as Vick was only completing 54% of his passes.
The argument can be made that Foles is a bit of a statue in the pocket but the Eagles have done a better job with their pass protection this year so I don't think that'll factor into Kelly's decision. Foles also stretches the field a little better than Vick with his ability to uncork the deep ball to guys like Desean Jackson and Riley Cooper. Many thought without Vick in the lineup the running game wouldn't be as potent but it turns out that was wrong as Lesean McCoy had another 100 yard day against the Buccaneers. Personally I've always been a fan of Michael Vick and think he still has a lot of football left in him but if I'm Chip Kelly I'm going with Nick Foles, not only is he the best quarterback for this team now but also going forward.
In this league you just can't turn the ball over and unfortunately Vick has done that quite a bit in his career as an Eagle, Foles has shown he can protect the ball a bit more and be more efficient. There's that word again, efficiency is the key in this offense it keeps the offense flowing and keeps your defense on the sideline resting. Chip Kelly has a tough decision to make but I believe at the end of the day he'll go with Foles because he gives the team the best chance to win this season and in the future.
(PHOTO CREDITS: www.zimbo.com)
Director of Content for NCAA Football/Broadcaster
Follow Corey Carmona on Twitter @SportsJunkyy
Facebook.com/FullScaleSports
Twitter: @FullScaleSport