Chiefs continue unbelievable run from worst to first, knock off Texans 17-16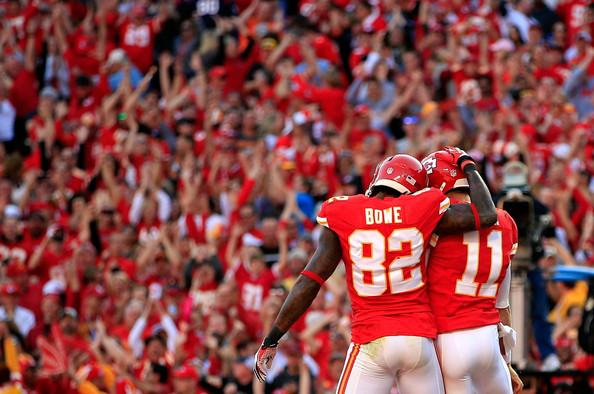 KANSAS CITY, Missouri—The Texans were down quarterback Matt Schaub and 2nd year player Case Keenum was introduced to the fearsome Kansas City defense this Sunday afternoon. Keenum was sacked 5 times and completed 15 of 25 passes overall.  He managed to stay interception free though and tossed a touchdown pass, and the injury of star running back Arian Foster did not help in trying to get the offense going. Ben Tate took over and only averaged 3.3 yards per carry and the only ran 54 plays all game well below the NFL average. The Chiefs stayed put on defense and let Jamaal Charles go to work on offense to hold off the Texans.
Charles rushed for 86 yards and a touchdown and is still showing why he is one of the best runningbacks in the NFL. Alex Smith ran for a touchdown himself and threw for 240 yards as the Chiefs squeaked by in a closely contested matchup.  The Chiefs completed 5 passes to wide receiver Dwayne Bowe and 4 more to Dexter McCluster. The Texans defense managed to intercept Smith and stop him from throwing for a touchdown but the offense could not keep up especially with their injuries. Usually the Texans are a well balanced team but without Schaub and Foster their gameplan was very different.
Gary Kubiak had this to say post game:
"When this team knows we are gunna throw it, throughout the day we were able to keep them off balance from how we were playing the game and what we were doing. Then with our running back situation we got into a situation where we needed to throw the ball"
The Chiefs showed why they are an elite team and have reached their record of 7-0. Even though the Texans have had their injuries (Brian Cushing hurt his knee and did not return) they still have many playmakers and the Chiefs grinded out a win. On the Texans final drive Case Keenum was stripped by Tamba Hali (2.5 sacks in the game) and the Chiefs took a knee to take a close hard-fought game.
Follow Shane Wellman on Twitter: @ASAPwell
Facebook.com/FullScaleSports Twitter: @FullScaleSport
Photo Cred (Jamie Squire/Getty Images)