Brooklyn Nets 2013-14 Season Preview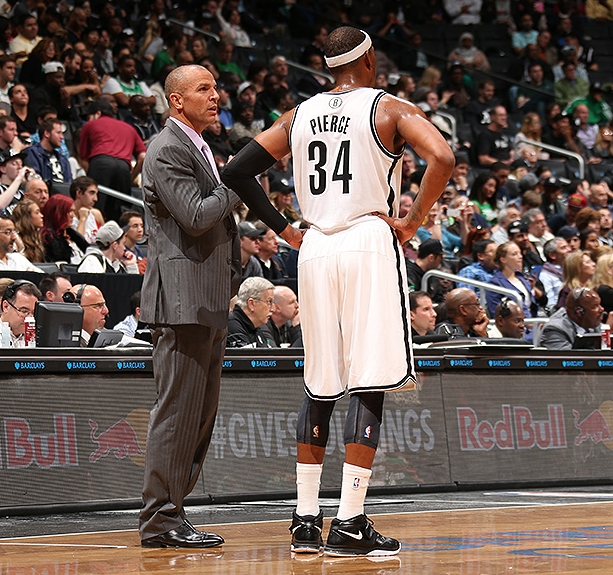 Deron Williams, Joe Johnson, Paul Pierce, Kevin Garnett, and Brook Lopez, all combined and what a starting five the Brooklyn Nets have. What about Jason Kidd? No, not the 19-year veteran point guard Jason Kidd, but the retired player, now a first year head coach in Brooklyn. This team has a lot of current and former All-Stars on the roster, but how will Kidd manage the personalities, the minutes, and the ball sharing?
2012-13 record 49-33, 2nd in Atlantic Division 
Key additions: Paul Pierce, Kevin Garnett, Jason Terry, Andrei Kirlenko, Jason Kidd (coach)
Key losses: MarShon Brooks, Kris Humphries, Gerald Wallace
The Brooklyn Nets will be about one thing this year, health. With that health will come the question of can they put it together, as a team? The Miami Heat's superstar team took two seasons to put it all together and win a championship, so how can the Nets get it done instantly? With a rookie head coach in Jason Kidd, who is a newly retired player himself, there will be a lot of management to be done.
Once the management off the court, as in minutes per player, when to sit veterans like Kevin Garnett, and Paul Pierce, and how to get a solid bench contribution, this team will look to their starting five. It'll all start with Deron Williams who has missed all of the pre-season with an ankle injury will most importantly need to stay healthy, but one of the league's best point guards will need to establish this team's identity.
With the additions of Pierce and Garnett, two players with Hall Of Fame talent that demand the ball, Williams will need to distribute evenly. Garnett and Pierce's arrivals shouldn't lose the focus on Brook Lopez, who is continuing to grow with this franchise. Instead of being traded in a mega deal for Dwight Howard, the Nets have shown they have full trust in Lopez, now he just needs to produce. Also starting is Joe Johnson, a once prolific scorer who has struggled recently, but is best with the ball in his hands, and not coming off of it.
Include Jason Terry and Andre Kirlenko as bench players who can score, and big men Reggie Evans, and Andray Blatche, there are plenty of opportunities for buckets and assists for Deron Williams and the Nets.
The other big question comes with the legacy of both Paul Pierce and Kevin Garnett. How will two men, who took the city of Boston and their historic Celtics franchise, back to the promise land, and got their much coveted championship ring, adapt to a new situation in Brooklyn? Pierce and Garnett paved the way for guys like Ray Allen and Rajon Rondo to succeed in Boston, and played a heavy part in the production and rise of Rondo.
So what can these two do for Brooklyn? Will the egos of all the veteran starters clash, or will guys like Williams, Pierce, and Garnett back off and let the other player around them get their own? Williams, Pierce, and Garnett should be viewed as this team's big 3, with championship experience in Garnett and Pierce, and being viewed as one of the league's top point guards in Williams, they must lead the charge.
All in all, Deron Williams finally has some help.
X-Factor: Brook Lopez
Will Brook Lopez thrive or fall with the new additions to this team? Never known for his defense or rebounding like elite centers among the league, Lopez has been known as a scoring big man. While he must improve in those two areas, Kevin Garnett's leadership off the court could help grow Lopez, but his presence on the court could hurt Lopez's stat line.
If the team wants to go far, Lopez will be key. Kevin Garnett and Paul Pierce may not play in back-to-back games this year, and Lopez, 25, has all the pressure to stay on the court, and produce in the veterans' absences.
Bottom line:
The Brooklyn Nets are filled with talent, both in their starting lineup and off the bench. As it is with any team, health will be most important, but it ultimately will decide the fate of the 2013-14 Brooklyn Nets. How will role players like Kirlenko, Terry, Blatche, and Evans step up in the absence of the veteran starters if rest is needed? Will Brook Lopez carry the load when Kevin Garnett sits? Even more so, how will Jason Kidd manage the minutes for his stars?
Ultimately, Jason Kidd has a tough mission at hand. Not only will he have to manage this team, and their stars players' minutes, but the expectations are high. This team has aging veterans, which means they have limited time. The Brooklyn Nets won't have the luxury that the Miami Heat had when their superstar team formed, its win now-or-never in Brooklyn, and that certainly won't come easy.
There's no doubt that the Nets are at the top of the Eastern Conference, but can they compete with the Miami Heat, Chicago Bulls, Indiana Pacers, and in-state rival, New York Knicks? Time will tell, but it better not take much time to figure this team out. Head coach Jason Kidd comes in with heavy expectations, and so will their veterans, but how will it all be managed?
Follow Mike Pendleton on Twitter @MP2310
Facebook.com/FullScaleSports Twitter:@FullScaleSport
Feature image photo credit: Facebook.com/BrooklynNets