College Football Games Of The Week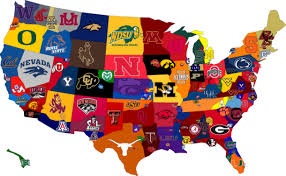 This college football season has been a fun-filled one, and week 9 will be no different. Let's take a look at some of the marquee games in each BCS conference.
AAC- Houston @ Rutgers
Both of these teams still have their sights on their school's first ever BCS bowl, and a loss here would be devastated for both of these conference championship hopes. Houston had enjoyed their undefeated season until BYU defeated them in a shootout. Even in a loss the QB Josh O'Korn and the Cougars proved that they can put up some points, but also proved that their defense is vulnerable. Rutgers has been in some shootouts this year as well as they have put up over 50 points in a game twice this year both in overtime. The key matchup in this game will be the Rutgers passing offense against Houston's passing defense. Houston is tied for 9th in the nation with 11 interceptions on the year and could have a field day against Rutgers' QB Gary Nova. The Scarlet Knights have many weapons around Nova however, as Rutgers have 5 receivers who have caught 10 passes, have 150 yards and caught a touchdown on the season. In the end I believe that the Cougs defense will prevail, and O'Korn will have a good game.
Prediction: Houston 38, Rutgers 24
ACC- #9 Clemson @ Maryland
Tahj Boyd and the Clemson Tigers suffered a devastating loss last week, but their Heisman and National title hopes aren't completely done just yet. This week they will be heading to College Park to face the Maryland Terrapins. Maryland started the season strong including a 37-0 beatdown on their rival West Virginia, yet the last 3 weeks have been forgetful as they've gone 1-2. If Maryland is going to turn the tide, QB Caleb Rowe is going to have to play better, he has completed less than 53% in each of his last three games, but he hasn't turned the ball over which could bode well in this game as Clemson has 11 interceptions on the season. Rowe hasn't thrown many interceptions this year, but he hasn't thrown many touchdowns either (only two on the year), Boyd will have more touchdowns in this game alone as the Tigers take out their frustrations from last week on the Terrapins.
Prediction: Clemson 41, Maryland 17
Big 12- #10 Texas Tech @ #15 Oklahoma
Is Texas Tech for real? Was the Texas loss for Oklahoma a fluke? This game will tell us a lot about both teams. Kliff Kingsbury has brought the "swag" back to Lubbock, TX behind two true freshmen QBs and have the Red Raiders undefeated and with a top ten ranking. Tech's schedule has helped them get to that ranking as they have only played one team with a winning record (Texas State). This game will be strength vs strength as Tech is second in the nation in passing and OU is first in the nation in pass defense, Oklahoma's ranking may be a bit misleading however as the highest ranked passing offense they have faced is Texas ranked 49th. Oklahoma QB Blake Bell is on a short leash as he hasn't thrown over 200 yards in the last three games, all while Texas Tech QB Davis Webb has thrown over 400 yards in back to back weeks. The Sooners and Red Raiders have alternated wins every year since 2005, and Oklahoma won last year which means it's Tech's turn. Call me a homer, but I have to go with my alma mater.
Prediction: Texas Tech 31, Oklahoma 27
Big Ten- Penn State @ #4 Ohio State
Call it the Sanction Bowl as both teams have received major penalties from the NCAA in recent years. Ohio State is on a 19 game winning streak but haven't look like the 4th ranked team in the nation recently. Close games against Wisconsin, Northwestern, and Iowa have risen the Buckeye faithful's blood pressure but if things fall Ohio State's way they could be headed to the National Championship game at the end of the year. Penn State has played surprisingly well in the past two season despite the scholarship reductions and bowl ban and recently beat a ranked Michigan team. Ohio State is ranked seventh in the nation in rush defense and if they are able to shut down the two-headed Nittany Lion rushing attack and make them one-dimensional, then they should be able to pull away. I'm taking Braxton Miller and his playmaking ability to victory in another close game.
Prediction: Ohio State 34, Penn State 27
Pac-12- #12 UCLA @ #3 Oregon
Matchup of the Week: The nation finally gets to watch the high-powered Oregon attack on primetime TV, and Heisman favorite Marcus Mariota and the Ducks will try to keep this offense up. This game could have National title implications as well, so both teams will be fired up for this one. Oregon has scored at least 45 points in each of their games this year but they have never faced a defense like these Bruins, and UCLA is led by other Heisman hopeful Brett Hundley and is 21st in the nation but have never played a defense like these Ducks. Oregon and UCLA have the top two defenses in the Pac-12 and could give the formula on how to stop each other's offensive dominances. UCLA is already coming off a performance where they were dominated by a scorned Stanford team and now they are looking to break the Pac-12 race back open by upsetting the Ducks. As much as I would LOVE for UCLA to pull off this upset, the Oregon run game is too strong as they are ranked second in the nation in rushing. Jim Mora is still about a year or two away from a truly special season.
Prediction: Oregon 38, UCLA 21
SEC- #21 South Carolina @ #5 Missouri
I finally believe in these Tigers. After losing their starting QB James Franklin for the year, Maty Mauk came in and didn't miss a beat as they dismantled ranked Florida, now can they keep this undefeated tour going at home against South Carolina. The Gamecocks will be looking to put their season back on track after their crushing loss last week against Tennesee. Superstar Jadeveon Clowney was a breath of fresh air however as he delivered this crushing hit reminding everyone just how dominant he can be.

USC will need Clowney to play more like this if they are gonna have a chance in this game. He and the front seven will be going up against the 15th ranked rushing attack and the eighth overall offense in the nation. I'm buying into Mizzou as a legitimate team this year and am gonna ride them until they show me I shouldn't.
Prediction: Missouri 34, South Carolina 24
Non-BCS- #17 Fresno State @ San Diego State
If you don't know who Derek Carr is, then it is time to get familiar, he is no longer just "David Carr's little brother". Carr is looking to lead the nation's fourth best passing offense and the Bulldogs unblemished record into Qualcomm Stadium to play the Aztecs. Carr should have a field day against the 112th ranked passing defense and will look to try to show his talent on late night national TV. If San Diego State is going to have any chance in this game, then Aztec QB Quinn Kaehler is going to have to lead the top 50 passing attack against FSU's similar weakness: passing defense (ranked 111th). With both teams being terrible against the pass, I expect a west coast shootout. The better gunslinger usually wins shootouts so I'm gonna go with Derek Carr to continue firing the ball.
Prediction: Fresno State 52, San Diego State 31
(Photo Credit: http://vortexeffect.net/)
Follow Albert Nkansah on Twitter @AlbertN_5
Facebook.com/FullScaleSports Twitter:@FullScaleSport