Trading Places: Wizards trade Okafor and 1st round pick to Suns for Gortat and 3 others.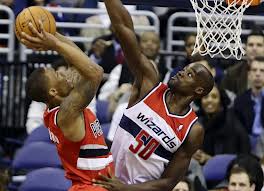 WASHINHTON D.C- The Wizards and Suns are both dealing big men and the Suns acquire potentially their 4th first round pick for the 2014 draft. The pick they receive from the Wizards is protected within the top 12 and they receive an expensive expiring contract in Emeka Okafor. The Suns give up Marcin Gortat who for the past 3 years has averaged at least 11.1 points and 8.5 rebounds a year. The Wizards get another building block to put around John Wall in Gortat and the Suns get Okafor who's stats have declined over the years but he averaged nearly 10 points a game and 9 rebounds a game. Okafor is due to make 14.5 million this year but expires after the season is up. Okafor could potentially be used as trade bait to a playoff team at the end of the year as well.
The other players the Wizards acquired are guards Shannon Brown, Malcolm Lee, and Kendall Marshall all who are backups and expected to be waived by the Wizards to cut their roster down to the limit of 15 players. Marshall is significant as he was the Suns number 13 pick in the first round in 2012, but as a rookie was disappointing averaging 3 points and 3 assists a game. Lee and Brown were just thrown in for salary-cap purposes and are expendable.
Gortat and Okafor are the big men and big pieces of the trade but the Suns acquire another pick in a possibly loaded 2014 draft to include studs Andrew Wiggins and Jabari Parker. The pick is protected within the top 12 also and the Wizards were 29-53 last year and picked 3rd taking Otto Porter Jr. It is yet to be known how they will fare this year with Porter Jr. and newly acquired big man Gortat.
Follow Shane Wellman on Twitter @ASAPwell
facebook.com/FullScaleSports Twitter: @FullScaleSport
Photo Cred: (Associated Press)